June 24, 2013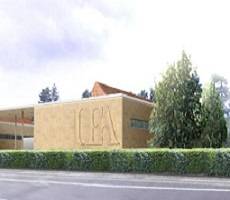 A major new £8m low carbon building, which is the first commercial building to be designed to achieve both Passivhaus and BREEAM Outstanding certifications has been granted planning permission. The Enterprise Centre at the University of East Anglia (UEA), designed by UK-GBC members Architype and BDP, as well as Churchman Landscape Architects, also aims to set radical new sustainability standards in terms of embodied energy and use of materials from renewable sources. Ben Humphries, Associate Director from Architype and lead designer for the project, described the building as an "exciting and innovative piece of architecture."
The design for the Norwich Research Park (NRP) Enterprise Centre is arranged around a contemporary entrance courtyard, in the centre of the site, with two wings to the north and south, housing new green business 'hatcheries' and academic spaces. Linking these together is a pavilion with social areas, exhibition and demonstration spaces, and within the courtyard is a rammed chalk lecture theatre. In an exhibition garden to the south, there is a testing pavilion for trialing new construction innovations.
The NRP Enterprise Centre will be designed to achieve Passivhaus certification, which provides a comfortable internal environment along with radically reduced energy usage (typically 70 per cent reduction over Building Regulations). The Centre will also achieve an Outstanding rating under BREEAM New Construction 2011, the highest rating available through the BRE certification.
The centre, which will open in January 2015 will house a mix of academic teaching and enterprise functions, include a timber and glulam frame, a locally sourced Brettstapel constructed lecture theatre and prefabricated Norfolk straw and reed cladding panels.
Click here to view a short video on the project.