November 17, 2023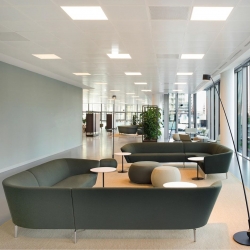 Arper, global design brand that envisions products for the way we live, publishes its first Sustainability Report, which serves as a comprehensive overview of the company's sustainability efforts for the year 2022, outlining their commitment to responsible business practices.? The report summarizes Arper's commitment towards people and the Planet and highlights the company's continuous search for sustainable innovation processes and the implementation of responsible business practices.
The sustainability report aims to clearly showcase the company's environmental impact, and to articulate the three main pillars of Arper's strategy – long-term goals that support the company's evolution into a responsible business guided by a strategic vision and mark the transition from Corporate Social Responsibility to Corporate Shared Value. The three pillars, as seen in the report, are: to improve the quality of life and wellbeing of people, to start the transition to a circular economy, and to reduce its environmental impact.
Roberto Monti, Arper CEO, comments: "When discussing the topic within the company, we collectively feel that the word sustainability, although filled with meaning, somehow does not seem to suffice. That is why we prefer to talk about responsibility.
"Our goal is to turn Arper into a leading example of responsible business. This means being at the forefront, and sharing our results with the world so that others can benefit from shared innovation."
Here are some of the results achieved in 2022:
Improving the quality of life and wellbeing of people
Arper created 58 jobs globally in 2022, including 12 for people under 30, ending the year with a workforce of 261 employees
Introduction of Arper Flow, an innovative free smart working program that prioritizes work-life balance, offering freedom in work methods
Development of a joint project with local schools in Italy, with the aim of opening the company's doors to secondary school children
Creation of the "corporate ambassador team," a group of employees from different departments who volunteered their time and efforts to promote positive change within Arper through workshops, meetings and activities.
Starting the transition to circular economy
Arper scored 43% in the TECLA (Wood-Furniture Circular Economy Tool) measurement. This tool, developed by FederlegnoArredo, the Italian association responsible for wood and furniture, allows companies to measure their level of circularity according to recognized and rigorous standards
Increased use of post-industrial PP and first tests with post-consumer PP: a significant step forward in optimizing material use. Post-consumer PP was then applied to Arper products from 2023
Launch of the Arper District project, a series of dedicated meetings to engage suppliers and encourage them to align their practices with those of the company, to develop a more sustainable value chain.
Collaboration with a major partner in the Netherlands to provide a refurbishment service for Arper products, extending their lifespan and reducing waste. The project is set to expand in the years to come.
Reducing the environmental impact
In 2022, Arper sent more than 60 tons of waste to recovery. The 2022 CO2 emissions are 16,544.95 CO2eq, including Scope 1, 2 and 3.
Arper has also outlined a greenhouse gas reduction plan that aims to reduce absolute CO2 emissions by 42% for Scope 1 and 2 and between 25% and 42% for Scope 3 by 2030, using 2022 as the base year.
Introduction of "Sustainable Mobility On the Go" (S.M.O.G.), a project that promotes sustainable transportation and reduces carbon emissions by offering employees various green transportation options
Through dedicated workshops, the company analysed different aspects of its operations, with the aim of implementing effective measures that align with its sustainability goals.
Organization of training sessions, both for employees and strategic suppliers, dedicated to teaching sustainability fundamentals and explaining ESG ratings.