November 10, 2022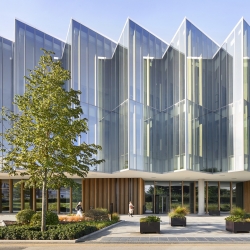 BDP has published its results for the financial year ended 30 June 2022. The practice achieved revenues of £136.6m and an operating profit of £13.2m. The multidisciplinary practice won a number of prestigious projects in the financial year and expanded into new locations by establishing new presences in New York, Lima and Edinburgh to create a network of integrated, collaborative studios with global reach. The organisation's employee numbers have also returned to pre-pandemic levels as it welcomed talented people back to its workplaces across the globe.
Chief Executive, Nick Fairham, said: "A unique ability to adapt and solve problems for our clients has resulted in an outstanding 2022 for BDP. Following the hiatus of the last two years we have seen an explosion of creativity with a renewed emphasis on careful, not careless design. We are creating a new generation of projects; adapting existing structures for new uses and using digital design and manufacture to support efficiency and wellbeing as we bring new buildings and places to our cities."
For 2023 and beyond, BDP plans to continue building on its market-leading approach in multiple locations by exporting its sector-specific expertise to its international studios to win new projects and grow across all disciplines. This is supported by BDP's new strategic plan 'Investing in Ideas', which promotes knowledge sharing across all its global studios, connecting sector experts and multiple professional disciplines to foster creativity and innovation.
Fairham continues: "Our award-winning projects range from the masterplanning of entire cities to the design of interiors and building components. The success of our approach is one based around our understanding of the needs of people and using careful analysis of data to enhance the environments in which our projects are located.
"Last year we celebrated 60 years as a design practice. Our socially progressive roots remain as relevant today as they did in 1961. The global conversation around how cities operate is continuing and we want to extend the debate to create a better quality of life for all; for a city to be truly successful, it must deliver socially as well as environmentally and economically."
BDP is still regarded as a pioneer in multidisciplinary working and sustainable design; an approach which it carries through to each project. The company will move to a model of environmental, social and governance reporting from next year to demonstrate the value that multidisciplinary design can bring to its clients and communities.
Now with 19 city studio locations, BDP will continue to bring local intelligence to new opportunities across the globe that support the values and ambitions of the practice.