March 3, 2022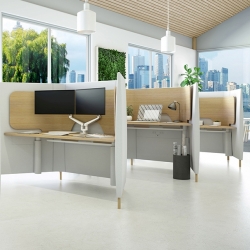 The organisers of US based office design event NeoCon have announce that the submission portal for the 2022 edition of the celebrated Best of NeoCon competition is now open. A hallmark of the show since 1990, the official awards programme recognises exceptional new products in 54 categories from exhibiting companies across a wide cross-section of verticals.
Longtime Best of NeoCon Director Eileen McMorrow continues to manage the competition, recruiting new jurors with diverse backgrounds and areas of expertise, who will join veteran jurors during in-person judging in the days prior to the event, June 13-15 at theMART. The highly-qualified jury is composed of some of the industry's most distinguished design professionals and decision-makers including influential architects and designers, as well as prolific specifiers and facility managers. The jury nomination and recruitment process is well underway and a number of individuals from firms such as HOK, NELSON, IA, and Gensler have been confirmed so far. The final jury lineup and more details will be announced in April.
"As a juror I was able to see and experience the most cutting-edge products first-hand, before the show officially opened," remarks Best of NeoCon 2021 Juror Mike Johnson II, a senior associate|senior interior project manager at Perkins&Will. "Evaluating the new solutions alongside other experienced jurors with varying perspectives, while connecting in-depth with the manufacturers was a great highlight of my NeoCon experience. That mutually-beneficial connection is at the core of every NeoCon, and is brought to the forefront during Best of NeoCon—it's what makes the show and the awards program so valuable."
Best of NeoCon winners will be unveiled at a live event at theMART on the first day of the event, Monday, June 13. To mark the achievement, winning companies will receive a distinctive award designed by NeoCon partner and award-winning design firm Maiarelli Studio and produced by exhibitor 3form.
Exhibitors can submit entries through the Best of NeoCon online portal starting March 1, 2022. Any new products introduced to the U.S. market since June 1, 2021, that will be on display at the exhibition are eligible. Products that were entered in the Awards in 2021 are not eligible. Submission deadlines and entry fees are as follows:
Early entry by April 14: $700.00
Regular entry by May 5: $800.00
Late entry by May 19: $900.00
More details on the program and entry process  can be found here
Image: Last year's Best of Competition winner Honey by Darran Furniture