October 7, 2022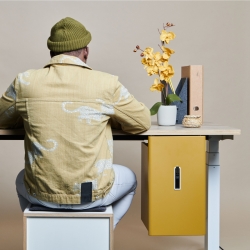 The Design Guild Mark has launched the call for entries for the 2023 awards, inviting designers and companies to submit entries for three categories: Furniture; Lighting; Interior Design Elements. Entry is open to British designers working in the UK or abroad, as well as designers with UK-based practices. Submissions can be for an individual product or collection of products that are currently in production, that were designed for, and are manufactured by, an industrial design process. The designs can be intended for domestic, office, hospitality, educational or corporate use, and for both interior and exterior environments.
The Design Guild Mark was established in 2008 by The Furniture Makers' Company to recognise all designs that meet the highest standards of originality and innovation in British industrial design. Over time the Mark has grown from just Furniture to include categories for Interior Design Elements, and Lighting.
It is unique to other design awards as the panel of independent judges – all experts in the field of design – examine the submitted piece during the judging day. Applicants are required to present their actual piece in person to allow for a dialogue between the judges and for any questions to be answered.
Designs awarded a Mark benefit from increased industry and consumer awareness, press and social media coverage, with the designers and companies behind them also receiving enhanced brand recognition.
The piece from each of the three categories deemed to be the most outstanding by the judges will also win the Jonathan Hindle Prize for Excellence.
Designers and companies have until 25 November 2022 to submit an entry to meet the early bird deadline and until 20 January 2023 for the final deadline.
Rodney McMahon, chairman of the Design Guild Mark, said: "The variety and quality of designs, from both established and aspiring designers, applying for the Design Guild Mark is always stimulating. With the launch of the Lighting Design categories last year, we now have three different design strands that we hope will attract an even broader range of applicants and ensure that the award of a Design Guild Mark continues to be something to which to aspire."
Image: one of last year's winners, the Bisley Buddy
The Design Guild Mark judging panels for 2023 will be:
Furniture    
Joanna Biggs – GA Design
Sarah Bryan – ID:SR Sheppard Robson
Elliott Koehler – Allermuir
Lucy Kurrein – Lucy Kurrein Ltd
Jeremy Myerson – Royal College of Art
Tom Pearce – Farrah & Pearce
Luke Pearson – Pearson Lloyd
Campbell Thompson – The Conran Shop
Terence Woodgate – Studio Woodgate
Interior Design Elements
Linzi Coppick – Forme UK
Daniel Hopwood – Hopwood Design Studios
Professor Emeritus Clare Johnson – Royal College of Art
Natasha Marshall – Natasha Marshall Interiors Ltd
Corinne Pringle – tp bennett
Emma Sewell – Wallace Sewell
Peter Thwaites – Rapture & Wright
Lighting Design
Simon Alderson – twentytwentyone
Tim Rundle – Tim Rundle Studio
Simon Terry – Anglepoise
John Tree – Jasper Morrison
Sebastian Wrong – Established & Sons