July 14, 2023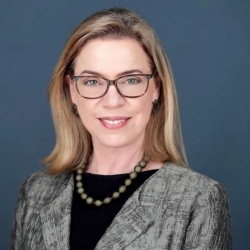 Despina Katsikakis, Executive Partner & Global Lead, Total Workplace at Cushman & Wakefield, has been elected as President of the British Council for Offices (BCO) with immediate effect. She succeeds Mark Kowal, Partner at Sheppard Robson. Peter Crowther, Managing Director at Bruntwood, becomes Senior Vice President.
Despina is one of the leading voices in the office sector. She has over 35 years of experience advising global companies such as Microsoft, Barclays,Unilever and BP as well as investors of landmark developments worldwide. She pioneered the role of workplace consultancy in the 1980s and led the transformation of the workplace as an experience. In her role at Cushman & Wakefield and, as President of the British Council for Offices, she continues to lead on latest trends, guiding the approach towards offices that enhance employee wellbeing, deliver social value and business performance.
Since joining the BCO's Board of Management in 2021, Despina has advocated for a human-centric approach to workspaces. She chaired the 2023 BCO Conference in Dublin, which explored how offices can contribute to ensuring the social, economic and environmental sustainability of cities. As BCO President she will champion the role of the office in supporting resilience and providing inspiring places for people and society to thrive.
Mark Kowal's 16-month presidency focused on the overarching ambition of maintaining the relevance of the BCO in a fast-shifting context. This saw a launch of bold changes to the BCO's Guide to Specification to address both hybrid working and revised net zero carbon targets.
Other changes to the BCO's Presidential Team include Peter Crowther's promotion to Senior Vice President. Peter is Managing Director at Bruntwood and joined the BCO Board of Management in 2022. He served in the BCO Northern Region Committee and the National Awards Judging Panel.
The BCO's Honorary Treasurer, James Clark, Partner at Core Five will also be standing down and is to be succeeded by Bruce Paterson, Founding Partner at Quantem Consulting.