September 21, 2022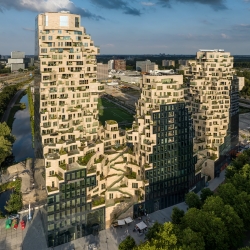 Real estate developer EDGE has announced the official opening of Valley, the high-rise designed by MVRDV, which was recently declared the world's best new skyscraper by the Emporis Awards. The firm claims that the addition to Amsterdam's business district will mark a shift in thinking for urban development as a whole, transforming the Zuidas district into a vibrant and lively urban quarter. The fully leased 75.000-square-meter development, was officially opened in the presence of Reinier van Dantzig, Alderman for Housing and Urban Development, Municipality of Amsterdam, the Board of RJB Group of Companies, Winy Maas, Founding Partner at MVRDV, Coen van Oostrom, Founder & CEO of EDGE and all parties involved in the project.
The mixed-use development includes 200 apartments, offices, restaurants, a breath-taking atrium, and a publicly accessible park designed by landscape architect, Piet Oudolf. With 370 planting areas spread over 27 floors and approximately 13,500 young plants, shrubs, and trees, the developer claims the design offers an urban oasis in the heart of district which everyone can now benefit from. As well as providing a beautiful green space to recharge and inspire, the expansive park also encourages the local biodiversity and microclimate, making the building a manifesto for a greener city.
The construction of Valley took four years. The first residents and entrepreneurs moved into the building at the end of 2021.
The design and construction of Valley is bespoke, requiring the sustained commitment of hundreds of designers, engineers, architects, builders, consultants, led by the team of developers at EDGE. The complex shape required a commitment to detailing and MVRDV created a series of custom digital tools for the building, from a tool that ensured every apartment had adequate light and views, to a programme that made possible the apparently random pattern of over 40,000 stone tiles of varying sizes that adorn the building's façades.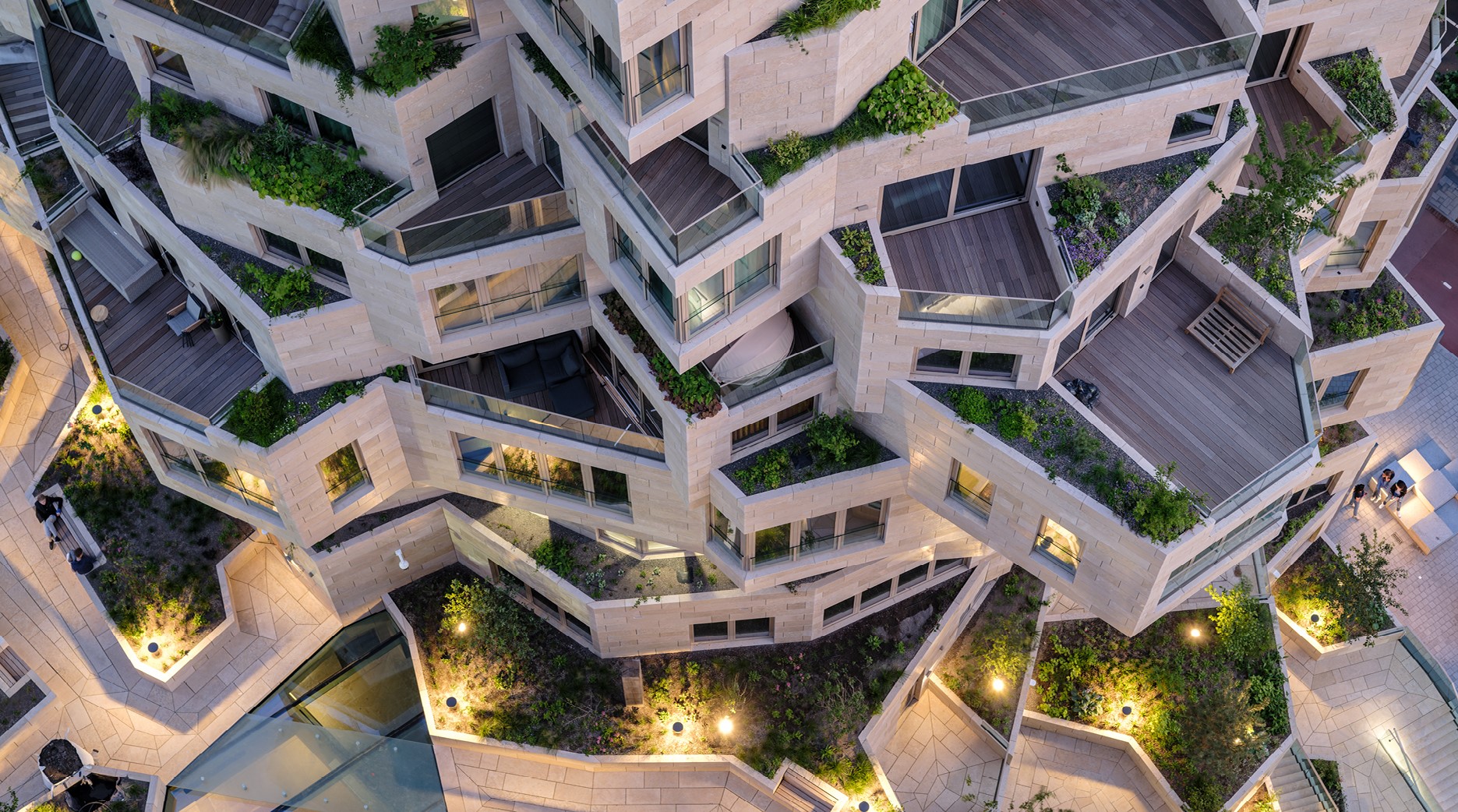 Reinier van Dantzig, Alderman for Housing and Urban Development, Municipality of Amsterdam, who mentioned: "As the Alderman for Housing and Urban Development at the Municipality of Amsterdam, I am proud to welcome this iconic building to the city. This part of Amsterdam is currently transitioning from being a solely business district to a more dynamic part of the city, bringing residential homes and various facilities. This exceptional building is a great example to showcase what is possible in terms of high quality and sustainable housing in the Netherlands. And I'm delighted to see it as a beautiful addition to the skyline of Amsterdam."
Coen van Oostrom, Founder and CEO, EDGE, opened the ceremony with a few words: "Incredibly proud to have partnered with RJB Group of Companies, MVRDV, Piet Oudolf and the municipality of Amsterdam to develop one of Amsterdam's most exceptional mixed-use developments. I would like to thank everyone who worked on this building and our local government for allowing us to convert areas with exciting programs such as this one. Valley is a truly unique project that I believe will inspire others to rethink the way we build in modern cities, promoting wellbeing and sustainability."
Board of Directors, RJB Group of Companies also present added: "As investor, we were very early on involved in the development of Valley. We were able to add quality to the program of the building such as wellness with a swimming pool, a high luxury upgrade to the apartments and an extensive conciërge concept. After four years, we are extremely proud to add Valley to our growing diversified portfolio and welcome our tenants to live, recreate and work in the amazing concept that Valley is."
"How do you make an office district liveable? What should the homes be like? What else is needed? Those were the questions we started with when we designed Valley", says MVRDV founding partner Winy Maas. "Instead of a one-note business centre, this site along Beethovenstraat in Amsterdam is now a symphony of life – people working, yes, but also barbecuing on their terraces, visitors relaxing in the valley, shopping in the grotto, eating dinner by the street, and even the window cleaners and the gardeners scaling the heights above. Valley is a first step towards transforming this part of Amsterdam into a greener, denser, and more human city."