October 25, 2023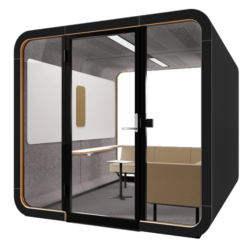 It's a fact – pods are taking over the office. In 2010, Framery introduced the first pod to the market and now there are over 200 suppliers globally. Framery, the market leader in this space, was a major pioneer of their development and subsequently has supplied 70 percent of Forbes 100 companies with office pods.
The history of the pod began with the realisation that many workplaces suffered from the same problem – with no solution available. People wanted a quiet place to work with superb acoustics and silent ventilation. Now, when to use office pods their working culture is transformed. News began to travel and soon companies bought them and loved them. They sold in their thousands and inspired other firms to follow suit.  Today the Framery O is the world's best selling pod and the firm continues to innovate.
Here are five reasons why the world's top companies, including the likes of Tesla, Microsoft, LinkedIn and Puma, are using pods – and why they will be coming to an office near you.
Five ways pods are disrupting the office
1 Pods save a fortune
A recent study done Framery conducted in collaboration with the CBRE, the global commercial real estate and investment firm, found that using office pods instead of constructing new meeting rooms could save the industry over £30 billion in the USA alone in the next few years. The cost of constructing meeting rooms is 55% more expensive than pods.
2 Pods reduce stress
Yes, really. A Framery study showed that up to 41% of office workers felt more energised and relaxed after spending time in a pod. Well-designed sound-proof pods help reduce stress by shutting out distracting noises and background office chit chat, allowing you to focus. In June, a Gallup poll showed workers are stressed and disengaged in record numbers. Gallup estimates low engagement is costing the global economy a whopping £7 trillion.
3 Pods get people back to the office
A report published by CBRE showed that the most desired feature for increased visits to the office is the availability of focus spaces. Furthermore, a study by Framery revealed over half of us office workers (57%) agree access to privacy is one of the biggest perks – beating out the likes of gimmicks such as games rooms. The CBRE report also revealed similar findings; 62% of people see the availability of focus spaces as the most desirable factor for visting the office. Bosses and property executives are desperate to lure workers back to the office but need to listen to people really want from their working environment.
4 A connected office creates a more human space
Framery pods are connected, another big benefit for the worker. Framery Analytics give facility managers data will tailor the office according to your behaviour enabling staff to find places to meet and focus more effectively. More than 1,900 companies, including the likes of LinkedIn, Puma and H&M have so far invested in the service, promoting a better understanding of our work behaviours.
5 Lastly, pods mean you get the job done
The average person gets distracted every 40 seconds and it takes 23 minutes to regain your focus after an interruption. That finding, from a study conducted at the University of California, Irvine has important implications on productivity – and the wellbeing of a company's workforce. Given that 50% of people have a hard time concentrating in an open plan office, installing soundproof pods like Framery's have a host of benefits including noise cancellation and guaranteed privacy so you will never be disrupted or interrupted again if you don't want to be.