May 31, 2019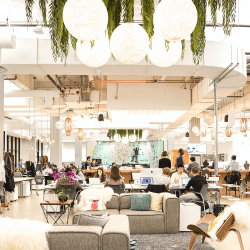 Over recent years, we have witnessed significant changes when it comes to the workplace. Women are continuing to push through the glass ceiling, offices are starting to look more likes homes and businesses are opting for a more flexible and sociable working environment. This rise in coworking and other forms of flexible office space is just one of the latest trends to emerge from the corporate world, and according to a report by office brokers Office Freedom, London is at the forefront of this growing market.
The city has one of the highest growth markets of flexible office space in the world. On average, a new coworking space opens in London every 5 days. In the same year, it was reported that throughout the capital, over 1,300 new flexible office locations were available, showing a 9 percent increase year-on-year. This increase was also reflected in a rise in the number of hybrid work centres that combine coworking and serviced office space in London.
The number of new workspaces in Central London grew by 42 percent in the last year alone
But why are flexible offices spaces proving to be popular?
Today, we live in a world where workers are looking for a job that offers more than just a salary. They are looking for a company that provides the full package; a positive working environment, good employee benefits and small perks that help their well-being. As a result, many businesses are trading a more traditional private office for a modern coworking space.
In many coworking spaces, workers can enjoy modern facilities such as on-site gyms, break out areas, roof terraces and even on-site restaurants. What's more, with the number of highly-skilled freelancers working in London rising well into the millions, the need for a collaborative work space or small desk space is more in demand than ever before.
From a business perspective, many large corporations are choosing to move to a flexible office space for more reasons that just attracting and retaining staff. This new flexible offices provide agility, all inclusive costs, less risk, potentially cheaper rates and the ability to quickly scale up or down.
Falling rates
Last year, the average workstation rates in London ranged from £328 to £871. However, due to the expanding market and the presence of more operators, these prices have fallen across many key areas of the city.
For example, despite having remained as the most expensive area for office for five consecutive years, Knightsbridge has experienced a significant 38 percent drop in rates. Similarly, both Paddington and Hammersmith have seen office prices fall by up to 32 percent in just the last two years due to the greater availability of flexible office spaces.
Inevitability, the increase in supply is a huge benefit for the city, providing space for more businesses to settle and more choice for finding the ideal space. However, for competing operators, this growing trend is adding pressure to undercut competitors and rely on the expertise of office brokers to secure new tenants.
Vibrant areas
Unsurprisingly, vibrant areas such as Old Street and Shoreditch have grown by a staggering 69 percent since 2014. This is largely due to the area becoming a significant hub for Fintech companies, many of which have only continued to flourish over the years. However, recent investments in improving these areas have also meant that businesses are benefiting from better amenities, transport links and local facilities.
According to the report, Docklands saw one the biggest drops in the number of workstation sales, with sales more than halving in the last year. This reflects a continuing trend which has seen a 75 percent drop over the last five years due to weakening demand for the Dockland location. Today, many companies are preferring to opt for city centre locations to benefit from better transport links, vibrant business communities and more comprehensive amenities.
 Seeing a more positive impact, flexible office space in Shoreditch, Camden, EC2 and other vibrant areas continues to be in high demand, and the standard of office space is increasing alongside the prices.
Rates in Camden have increased by 25 percent, most likely due to the strength and quality of the LABS flexible workspace. Similarly, as businesses continue to look for office space in Islington/Angel and major operators remain absent from the area, prices have increased by up to 17 percent as a reflection of the constant demand.
The future
From analysing the data provided in the report, it's clear that a lot has changed over the past five years. The market is undoubtedly thriving, and as businesses continue to search for a new type of office space, it is set to expand further in the future.
Despite the current uncertainty regarding the UK economy, businesses are still looking for new ways to grow and flexible offices are providing a great way to provide better facilities for staff and operate in the busy city environment with less risk.