October 29, 2018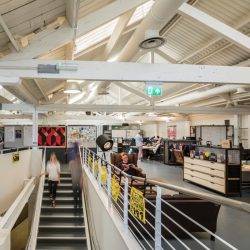 Burtt-Jones & Brewer is giving away its time for free as part of its tenth birthday celebrations. Formed ten years ago over a cup of coffee between Steve Brewer and Adam Burtt-Jones, the workplace designers are celebrating by giving away ten thousand pounds' worth of its workplace consultancy time to a single charity. So, instead of putting a birthday present list – they are sharing their experiences from a decade of design, development and delivery – from Moorgate to Milan, banks to brand agencies, lawyers to lottery operators, insurers to investors, the Bank of England to The Treasury.
Steve Brewer, co-founder and partner of Burtt-Jones Brewer said, "All of this would never have happened without determined, supportive clients, friendly, faithful suppliers and our fabulous, loyal and highly creative Burtt-Jones & Brewer team. So, the idea is for Burtt-Jones and Brewer to give something back. To do the right thing. That's why we came up with the idea of giving away ten thousand pounds' worth of time to spend. We're calling it £10k for ten years. Ten for ten."
The offer is clean cut with few conditions. Burtt-Jones & Brewer are offering a charity the gift of time, to see how the team can help enhance the winning charity's workplace. The chosen charity will have the opportunity to work with Steve Brewer and Adam Burtt-Jones and their colleagues, to co-write a brief and find the right solution – to the value of £10k.
The charity chosen might be looking to –
Improve collaboration within its organisation
Increase productivity (that enigma of the workplace)
Run a series of workshops to be aware of working in different ways
Learn about biophilic design and how this can address issues like mental health and improve wellbeing in the workplace.
The agreement is for time – it won't cover things like buying furniture or the cost of any fit out work itself.
Steve Brewer added, "We don't mind the reason, but we do want the winning charity to impress us with their ideas. It could be anything, after all we're about making all kinds of workplaces work. The decision is based on merit, a pitch for £10k of our time. You could make us laugh, cry or just be very honest in your response to us. But whatever it is, we want to demonstrate what can be achieved and do some good – put something back as a thank you for the last ten, great years of our business."
The only criteria Steve and Adam have set are these: the winning charity should be a small to medium sized organisation with somewhere between 50-250 full time people. Located within Greater London and on the London underground or overland network. Importantly, the charity must be willing to explore new working habits and be a little bit brave and then be happy for BJ&B to potentially share the work we are undertaking and the outputs more broadly through blogs and social media.
To register your interest in this opportunity via twitter or LinkedIn by 29 November ensuring you tag @honestdesign and use the hashtag #10kforten.  Should you have any questions drop Steve an email – steve@burtt-jonesandbrewer.com or find them on social media, but don't forget the #10kforten hashtag.