January 17, 2023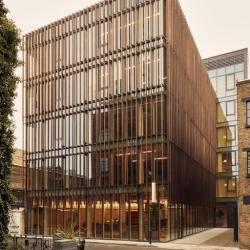 Flexible office provider TOG has announced the opening of its first project built from the ground up – The Black & White Building, located in Shoreditch. The firm claims that The Black & White Building is Central London's tallest mass timber office, standing at 17.8 metres high and covering 38,315 sq ft. The workspace has been built using renewable materials and innovative construction methods, which TOG claims results in embodied carbon creation being reduced by 37 percent compared with a concrete structure of the same size.
The site was acquired by TOG In 2013 and was previously home to an 11,000 sq ft building that TOG had originally painted black and white, giving the current building its name. Working collaboratively with Waugh Thistleton Architects, the space was expanded and rebuilt, incorporating cross-laminated timber and laminated veneer lumber – both high-performance wooden materials that are rapidly renewable, highly durable, easily recyclable and less waste-generating than more common building materials such as iron, steel and cement.
Alongside the 506 desks, 28 offices of varying size, six meeting rooms, two lounge areas, focus booths and break-out spaces, The Black & White Building includes showers and 94 bike storage spaces, driving environmentally-friendly commuting. The roof-terrace and ground-floor lounge encourages members to collaborate and socialise while also acting as versatile event spaces. A first in TOG's portfolio, users will also benefit from access to a dedicated yoga and barre studio for wellness activities which are focused on holistic health.
East London-based Daytrip Studio were appointed to design the interiors of The Black & White Building with the brief of driving social connectivity, championing environmentally conscious materials and supporting the workspace's sustainable principles by working with mostly UK makers and manufacturers.
The Black & White Building delivers both form and function while acting as an industry benchmark for sustainable commercial construction – the workspace is targeting a BREEAM "Excellent" rating and LETI "B" rating.
The Black & White Building is the fourteenth of The Office Group's buildings in the City and Shoreditch area.