March 10, 2016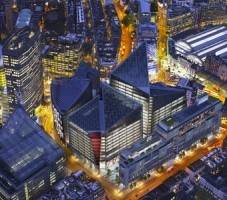 Demand for office space across prime Central London remains strong, with 3.4m sq ft of lettings recorded in Q4 2015, according to the latest Office Market Bulletin from Cluttons. However, even with continued high demand, prime rents have started to flatten, with rent rises seen in only six of 18 submarkets.  While Canary Wharf witnessed a rental hike of 5.6 percent during Q4, underpinned by occupiers who are willing to move further away from the core, particularly for large floorplates, to areas perceived to offer good value; in contrast, the City Core, which already has a high amount of good quality space, appears to be struggling to absorb the large increase of supply coming through, causing rents to stabilise. And towards the end of 2015 further developments within the City were announced which, if completed, could lead to a supply glut. Across the markets though, the top floors in the best schemes are attracting an increasing rent premium of 5-10 percent.
Almost 6m sq ft is under construction in the City, with a further 6.8m sq ft proposed for the City Core alone. Notably, plans for 1 Undershaft were released, which at almost 1m sq ft will be the City's tallest skyscraper.
Areas such as Victoria, Westminster, Knightsbridge and Belgravia have seen rents edge upwards (6.5 percent) due to the emergence of a number of new, high quality schemes that are demanding a premium and are attracting an increasing amount of high quality occupiers.
Land Securities' Zig Zag building, for example, was completed during the last quarter of last year and development of their Nova scheme continues.