April 12, 2015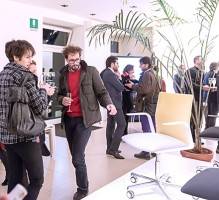 One of the least remarked upon consequences of the digital revolution of the past two decades has been its impact on the world of exhibitions. Not so long ago, these were one of the few ways people had of finding out about new products, firms, services and technologies. Now we can find as much as we would like about all of that kind of thing at any time, and so the exhibition has had to adopt a new role. In many ways, the changing role of shows has followed the same trajectory as that of offices. Far from becoming irrelevant or extinct, as some people predicted, they have instead developed a new prominence as platforms for new ideas, the sharing of information, meeting new people and reacquainting ourselves with old friends in the analogue world.
The products are still there, because our judgement is more sound when it's based on seeing and feeling something for ourselves, but the shows themselves are about far more. The main consequence of this changing role appears to have driven a greater taste for festivals and design weeks. Invariably city wide programmes of showroom events, exhibition halls, presentations, seminars, workshops and social gatherings, all enlivened with a sense of theatre, there are now some one hundred of these events in the global design calendar. But the granddaddy of them all remains Milan Design Week and at its heart the standalone event known as Salone Internazionale Del Mobile – the International Furniture Fair.
The format may be very 21st Century but the fair goes back a long way. Originally established in 1961, this is the 54th event and it goes from strength to strength, not least as a blueprint for festivals in other cities. This year's fair is paired with the biennial Euroluce lighting exhibition which coincides with UNESCO's decalaration that 2015 is the International Year of Light. This year also sees the debut of an event called Workplace3.0 which sets out to explore the interplay of physical workplace design and new workplace technology.
The Workplace 3.0 presentation will also incorporate a standalone showpiece called La Passeggiata (The Walk) designed by Michele de Lucchi. The idea, according to the designer, is to create a constantly changing social space which fosters interaction and collaboration and challenges outmoded ideas about the workplace.
Milan stalwart Arper is exploring similar ideas in its new permanent showroom. Life/Work: Arper approach to Soft Tech for contemporary spaces is described as 'a contemporary Life/Work design approach to interpret the evolution of the way we live and work today. Adaptive, light, essential products, where natural comfort is achieved thanks to soft tech: technology that is intuitive, invisible, integrated, intelligent.'
Of other must-see exhibitors we would also highlight our friends at Vitra. Always worth visiting, not least because they embody design excellence and also understand the crossover between the traditional office and the many other spaces in which we now work. This year sees them launch a new chair and table system designed by long-time collaborators the Bouroullec brothers Ronan and Erwan. The Belleville collection includes two versions of a chair finished with a shell finished in a choice of polypropylene, fabric or leather making it suitable for a wide range of environments, including outdoors.
Another firm with a longstanding tradition of creating groundbreaking and commercially successful designs and with whom we work closely is Herman Miller. As well as showcasing its extensive portfolio, Herman Miller has partnered with fabric maker Maharam and Dutch designers Scholten and Baijings to showcase an installation called "Lines,Grid & Blocks" based on the textile ranges of the same name.
The fabrics will be used to transform a number of furniture pieces from the Herman Miller Collection including The Wireframe Sofa by Sam Hecht and Kim Colin, Brabo Club Chair by Vincent Van Duysen, Tuxedo Bench by BassamFellows, and a selection of classic Ward Bennett seating which includes the Sled Chair and Scissor Chair. The installation will also include a number of floor-to-ceiling panels offer visitors an opportunity to observe the textiles' expansive repeats in full. The textiles have been designed so that they can be used over large areas such as sofas or tall screens without repeating.
Other highlights to look out for include this rather neat table called Anemos designed by Antonio Facco for Cappellini. The system includes four retractable seats that can be pushed together to form a single block. The product is designed to create flexible breakout and reception spaces.
As well as new products, we can also look forward to a reminder of some old favourites including Thonet's classic Bentwood chair which dates back to 1859 and has since sold millions worldwide. The newest addition to the family is a new sofa created by Christian Werner which incorporates the famous wooden frame and pairs it with a range of new upholstery finishes.
_____________________

Justin Miller is the sales director of office furniture and ergonomics specialist Wellworking.