April 23, 2021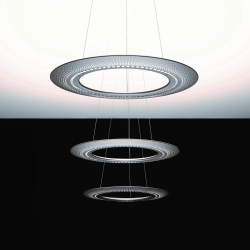 Rainlight Studio has been awarded the 'Best of the Best' product prize at this year's Red Dot Awards for AMBITUS, an innovative high performance luminaire designed for Austrian manufacturer Zumtobel, combining state-of-the-art technology within a nuanced form. Yorgo Lykouria, founder and creative director of Rainlight, collaborated with Zumtobel, one of the world's most well-respected lighting manufacturers, over a ten-year period to create AMBITUS, distinctive because of its compact profile and circular shape to emit maximum light distribution, in a sector dominated by linear forms.
Lykouria explains, "It seemed to me a paradox to design a luminaire with straight lines when all natural sources of light such as the sun and moon are spherical. Linear lighting systems often express disruption in a building that has complex geometry, rather than order. AMBITUS resolves this challenge because a circle is derived from a point; it can change direction and follows a modulated form without being oriented incorrectly."
This luminaire's ring shape means it has light distribution of almost 360 degrees, supplying maximum efficiency and quality of light. For instance, a two-person office would normally require two linear lighting solutions but one ring luminaire is all it takes to ensure sufficiently high-quality light at the workstations, making AMBITUS the most impressive round office luminaire currently on the market.
A precise, elegant product that fuses design poetry with sharp functionality
The design development stage involved using pliable LEDs and a highly complex tooling process, while AMBITUS's perforated pattern is achieved using sophisticated computational formulas, with the resulting abstract design reminiscent of being beneath a starlit sky. It is suspended by distinctive, thin cables that also carry power and data. The result is a precise, elegant product that fuses design poetry with sharp functionality.
The AMBITUS light engine offers tuneable white, direct and indirect lighting, with the ability to adjust colour temperature via programming systems or directly via a smart phone. It has been well documented that light works not only visually but also emotionally and biologically and AMBITUS's adjustability can achieve harmony with users' Circadian rhythms, providing energising or calming light as required.
AMBITUS's balanced synergy of design and technical sophistication impressed the judges of the Red Dot Awards, which this year received more entries than in any previous year in more than 60 years of highlighting design excellence. AMBITUS clinched the 'Best of the Best' product award for Rainlight and Zumtobel, the highest accolade in the awards programme, with the manufacturer also picking up two other Red Dot awards, one for a flexible spotlight and another for a collaboration with Austrian design studio EOOS.
Yorgo Lykouria adds finally, "Receiving the Best of the Best award really is a great honour. This project dates back over a decade and I knew then that there was a need for a high-performance circular light and this is the perfect recognition of that now."