November 24, 2020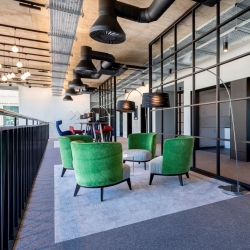 Workplace design and fit out company Area has become a founding member of Studio Alliance, a formal group of workplace experts who share common values, ethics and goals when delivering projects across Europe. Studio Alliance has been formed in response to accelerating globalisation and offers corporate occupiers and landlords local market knowledge combined with the experience of designing and delivering projects in over 5,000 buildings throughout 24 countries.
The principal services of Studio Alliance members include workplace consultancy, architectural and interior design, fit out and furnishing of commercial offices. Members have been hand-selected for their company size, demonstrable market knowledge, business success and longevity, as well as their experience working with global brands and multi-national corporations.
Studio Alliance is thrilled to have market-leading workplace experts Area as a founding member. With 20 years' experience of delivering exceptional projects for some of the world's biggest brands, the award-winning business is renowned for their design expertise, exemplary approach to construction management and onsite health and safety processes. Such experience compliments the skills and insight of the other partners, all of whom bring innumerable tangible benefits to Area's clients through the entire lifecycle of the projects they deliver.
Joining Studio Alliance and its talented members, who share the same ethos of putting clients at the heart of everything they do, will further bolster Area's impressive track record of delivering projects across Europe.
Lee Day, Director of Area Europe, comments: "Whilst having different requirements, both corporate occupiers and landlords are looking at their property portfolio on an international basis. Additionally, the workplace landscape is changing dramatically, with the "head office" giving way to a network of international offices, quite often with little or no design or delivery consistency from country to country. The advent of flexible coworking offices and homeworking has created even greater change within the workplace. So today, the need for workplace advisors to think and trade internationally has never been greater.
"We're therefore delighted to become a member of Studio Alliance, a unique organisation which offers its members access to new ideas, insights, trends and methods of working, and most importantly, provides an innovative and seamless design and fit out solution for international clients with European workplace portfolios."
Studio Alliance  comprises of 11 business members: Area Europe in the UK, Alternativ in Belgium, CAPEXUS in Czech Republic, CDB in France, DIEM in Turkey, Ditt in Holland, DVM group in Hungary, IIS Space in Ireland, Il Prisma in Italy, Morphoza in Romania and Reesco in Poland.