June 11, 2021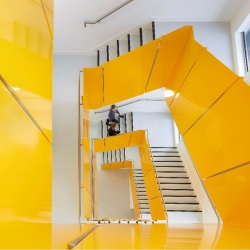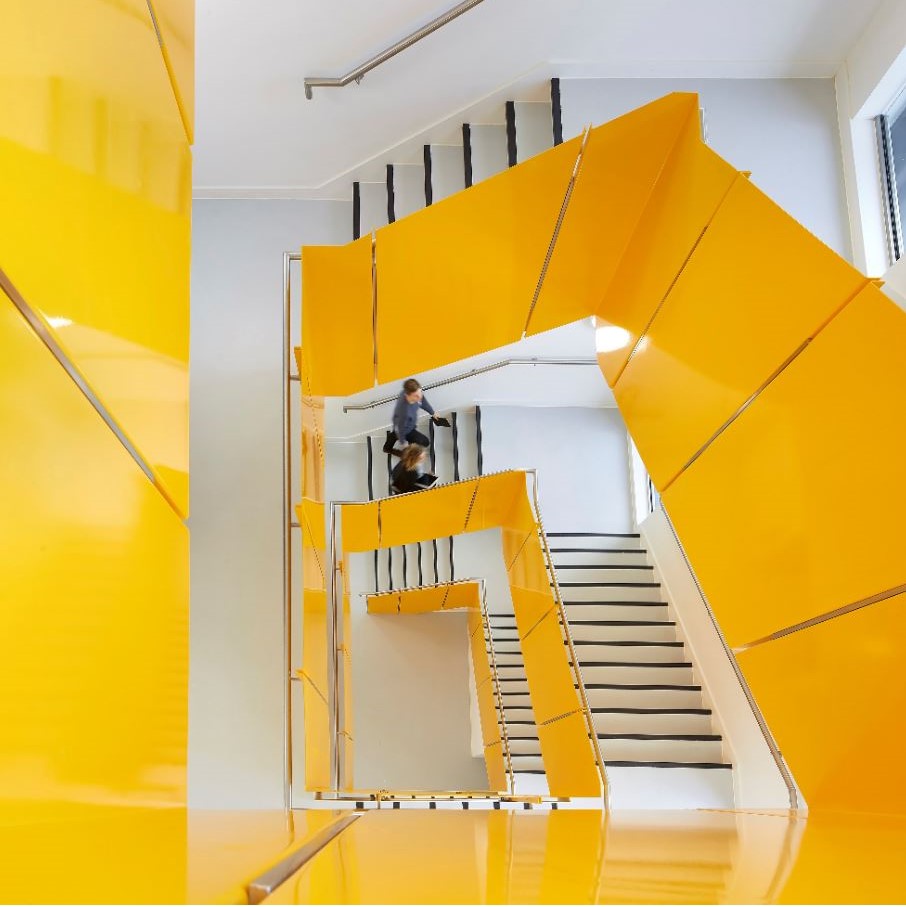 Taunton's UK Hydrographic Office Headquarters was named 'Best of the Best' at the British Council for Offices' (BCO) National Awards, and also took home the 'Corporate Workplace' award. The office was joined by six other award winners recognised as leading examples of excellence in the office space. This 'roll of honour' includes two buildings in London: The Brunel Building on Canalside Walk, and 160 Old Street, a refurbished office space in the "Silicon Roundabout" district.
According to the BCO, "UK Hydrographic Office Headquarters' unique purpose-built premises has delivered an impressive architectural statement to Taunton and its wider community while providing employees with an excellent workplace for secure collaboration. The centrepiece of the building is an impressive central atrium with generous staircases, connectivity bridges and balconies that provide access and flow, as well as good connection to natural light and ventilation. As judges noted, this ambitious development is altogether high quality, sustainable and transformational, and is a worthy winner of the 'Corporate Workplace' award and the title of 'Best of the Best'."
The full list of winners is:
• 'Best of the Best' and 'Corporate Workplace': UK Hydrographic Office Headquarters, Admiralty Way, Taunton
• 'Commercial Workplace': Brunel Building, 1 & 2 Canalside Walk, London
• 'Fit Out of Workplace': BBC Central Square, Cymru Wales
• 'Refurbished/Recycled Workplace': 160 Old Street, London
• 'Projects up to 1,500m2: Couchbase, 1A Tariff Street, Manchester
• 'Innovation: Prof. Lord Bhattacharyya Building, University of Warwick, Lord Bhattacharyya Way, Coventry
• 'Test of Time': Living Planet Centre: WWF-UK Headquarters, Woking
The Brunel Building, winner of the 'Commercial Workplace' award, takes numerous challenges and turns them into opportunity, leading judges to call it "an engineering masterclass in every way". The building, which faces foundation challenges given it is built atop a tube lines and canal, integrates smoothly with the surrounding public space, which has been reinvigorated by developers through the introduction of public art and an extensive communal roof terrace. Judges also highlighted the meticulous attention to detail and use of high-quality materials that contribute to the Brunel Building's sleek industrial aesthetic.
BBC Central Square's new home in Cymru Wales has exceeded the high expectations of the organisation and the staff within, delivering a state-of-the-art technical facility with a range of modern and innovative office areas. The BCO panel noted that the project's emphasis on people throughout planning and execution was at the heart of its success, and as the best 'Fit Out of Workplace', judges deemed it an impeccable example of form following function, with the blend of robust practicality and confident aesthetic evident in every detail.
At 160 Old Street a dilapidated 1970s office building has been transformed into an innovative, sustainable, modern development that makes the most of the interplay between existing and expressed new structure. The tenant experience is further optimised through the use of a smart building app that informs occupants of the latest events and local offerings while giving them control of the building's light, temperature and blinds. Judges considered 160 Old Street an impeccable example of a modern refurbishment and therefore named it BCO's top 'Refurbished/Recycled Workplace' for 2021.
The inventive combination of old and new in Couchbase's Manchester office contributes to a workspace that is at once fun and stylish while also fit for Couchbase's current operations and potential growth. With a variety of work settings, including informal, formal, quiet and collaboration spaces, 1A Tariff Street provides Couchbase with the sort of flexible work environment that modern companies demand, making the site a worthy winner of the 'Project Up to 1,500m2' award.
The Prof. Lord Bhattacharyya Building at The University of Warwick is home to a national automotive innovation centre, and the spirit of innovation is reflected in the ingenuity of the building's design, making the building a great choice for this year's 'Innovation' award. There remains a strong feeling of openness in spaces that can be shared, contributing to the wider sense of calm and composure that characterises the interior and exterior of the building. All of this was achieved while demonstrating impressive sustainable credentials, through the use of timber and renewable energy streams.
Living Planet Centre: WWF-UK's Headquarters completely pushed the boundaries in innovation and sustainability in the workplace when it was constructed in 2013, and since then it has cemented its place as a hub for environmental education. Unsurprisingly, the site boasts unrivalled environmental and sustainable features, such as ground source heat pumps, natural ventilation and a new wetlands area that has been created to provide a wildlife corridor to a nearby moor. Eight years after its opening, it remains a leader in sustainable design and wins the 'Test of Time' award.
Tony Hordon, Chair of the National Judging Committee, commented: "Once again the BCO National Award nominees have been exceptional, with each and every entrant striving to redefine what offices can be. I'm honoured to be able to evaluate such inventive and creative design as Chair of the National Judging Committee, and I extend my congratulations to all of the teams involved."
Richard Kauntze, Chief Executive of the BCO, said: "The National Awards are always a highlight for me as they allow us to recognise how the best in our sector are redefining best practice every single year. Even during uncertainty, our industry continues to grow and produce exceptional work, and the future continues to look bright. Congratulations to all nominees, our highly commended entrants and, of course, the award winners themselves".
For more information about the awards and the winners this year visit the BCO website.