June 20, 2022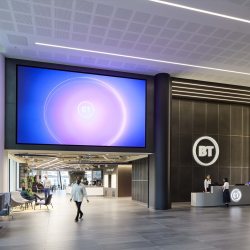 In January of 2020, shortly before that thing happened and before we knew much about the UK Government's 'levelling up' programme, Birmingham was already a city on the rise. It had recently been announced that it was to host the Commonwealth Games in 2022 and was riding the crest of a number of high-profile developments and regeneration projects, not least those that arrived on the back of the controversial high speed rail station.
These included the £500 million Paradise scheme in the City Centre, a £30 million redevelopment of the listed office buildings at 55 Colmore Row, the masterplans for the Perry Barr, Smithfield and Digbeth districts, and a revamped city centre landscape that included a £10 million overhaul of Birmingham's largest public space, Centenary Square.
Now, established digital and tech clusters in the city include The Custard Factory, Fazeley Studios, and Innovation Birmingham Campus, where Bruntwood SciTech is developing 120,000 sq ft of new Grade A flexible office space, specifically for digital and tech businesses, at Enterprise Wharf.
The city is also home to Europe's largest asset management FinTech innovation hub, The Engine Room, which provides 5,000 sq ft of flexible coworking office space for start-up companies.
One of the largest firms attracted to this hothouse is BT, which announced in January 2020 they would soon take up residence at the Three Snowhill development in the central business district as part of its Better Workplace Programme.
Collaboration and teamwork are the most important sparks for anything
Announced in 2019, BT the strategy included plans to close more than 270 offices as part of a five-year programme to cut costs by around £1.5bn, including the company's landmark St Paul's headquarters.
The plan would leave BT with thirty sites in its portfolio which it claimed would include those those "containing modern, future-fit buildings, including corporate offices, contact centres and specialist sites". These would include centres in London, Belfast, Cardiff, Edinburgh, Bristol, Birmingham, Manchester and Ipswich.
At the time, chief executive Philip Jansen said: "the Better Workplace Programme is about bringing our people together in brilliant spaces, and transforming the way we work…as a result of this programme, BT people will be housed in inspiring offices that are better for our business and better for our customers."
By November 2021, he was reiterating his commitment to offices in an interview with Evening Standard, albeit in language tempered by the intervening period. "My strong preference is for flexibility," he said. "But that doesn't just mean work from home…I'm a 3-4 day person. Collaboration and teamwork are the most important sparks for anything. WFH might be OK for a company for a while, then it will stutter. Life is not 9-5 and you can't separate work as you used to, so embrace it. We are leading on it, we say guys, you make your choice."
A new home
The same arc is evident in the way that BT has created a new home for itself in Birmingham. In January of 2020, the plans announced included the creation of a home for somewhere between 3,000 to 4,000 people, five times more than had previously worked in Birmingham. This would have entailed taken most of the space in  the 17 storey building.
Graeme Paton, BT's managing director of Property and Facilities Services, said at the time it was an exciting development and a clear sign of BT's commitment to Birmingham and the Midlands. He said: "Unveiling our new site at Three Snowhill follows our announcement last year, when Birmingham was revealed as one of the first locations that will house our workplaces of the future. The city was recently ranked one of the most rapidly improving places to work in Britain and, thanks to securing this office space, we will become one of the largest employers in Birmingham with a visible presence in a strategic and important location.
What does an office would look like that was forged in the pre-pandemic era, but tempered by the new era of work?
"Our new building in Birmingham will bring our people together in an impressive and modern environment, transforming the way we work. Excitingly, it will become a strategic hub location for BT in the UK with a considerable increase in the number of colleagues we employ based in the city. We hope our colleagues will be inspired by the new office, which will give them the tools and environment to be able to thrive. This is also fantastic news for both Birmingham and the wider Midlands."
At the time of the announcement, Birmingham had been earmarked as a testbed for the rollout of 5G across the UK, so the people based at Three Snowhill would also benefit from 5G mobile connections alongside full fibre broadband.
The office has now opened, begging the question of what an office would look like that was forged in the pre-pandemic era, but tempered by the new era of work and a two-year long conversation about the role of offices.
What is perhaps most remarkable at first glance is that the scale and ambition of the office are largely unchanged. Designed by tp bennett the building remains the largest single office fitout for an occupier in Birmingham. It is still designed to serve 'up to' 3,500 people and is the largest BT Hub outside of London as part of the still-live Better Workplace Programme.
The office is home to both office based and operational teams who have different requirements for dedicated space. So, the team at tp bennett have created a series of agile spaces and social hubs on every floor, including coworking on the ground floor, that are designed to bring colleagues together and encourage cross-collaboration across the business, while still accommodating focused individual work.
The colleague and visitor experience has been considered so that nothing is siloed. Destination zones throughout the building encourage staff to move around the building. A staircase between levels 16 and 17 connects a restaurant and adjoining terrace to a dedicated events space, which is central to BT's ambition to bring its colleagues together.
Reflecting BT's commitment to inclusion, a variety of welfare facilities, including multifaith, parenting and consult rooms, have also been incorporated, alongside wellness spaces. Able2, BT's accessibility network, was invited to test the building and feedback on their experience to improve the design and ensure it is accessible to all.
Throughout the BREEAM Excellent rated workspace, tp bennett has also designed floor layouts to maximise natural light and views out across the city, as well as integrating plenty of planting. In the marketplace, a double height 'grab-and-go' catering area incorporates a large green wall. Local Midlands-based artist Tim Fowler also created two large artworks for the upper floors injecting colour and vibrancy into the atrium in what he described as "creating a neon technicolour greenhouse garden".
Think local
The design concept takes BT's well-known corporate brand identity and situates it in the local context, with subtle references to Birmingham's railway industry, canal networks and jewellery quarter woven in through artwork and furniture selection. This builds a design narrative to give the space a strong Birmingham identity while BT's brand DNA runs throughout.
A neutral palette and use of sustainably sourced natural materials create a welcoming environment and softness in contrast to the architecture of the building, and delicate indigo lighting hints at the BT brand. At reception, a portal wrapped in perforated mesh is lit to emulate the soft glow at the edge of BT's logo.
One of the shifts that Birmingham may be able to take advantage of is the migration of tech and comms firms away from London. According to CBRE's UK Tech Cities report published in March, Birmingham has already leapfrogged Edinburgh to claim second place in a list of the UK's leading tech cities outside London.
Previously ranked fourth, it is second only to Manchester in the ranking based on a range of factors including access to skilled talent, availability of office space, proximity to institutions providing high quality tech courses, cost of living and employment costs.
The challenge for landlords and developers is creating space that tech companies and their employees want to work in
Birmingham is home to several world class universities and educational institutions, which is reflected in the city's improved scoring in The Guardian's league table of the UK's best universities for computer science and information degrees. This has had a positive impact on the number of students studying in Birmingham and staying to work post-graduation. According to research by CBRE, outside London the city has the highest graduate retention in Great Britain.
CBRE's Tech Cities report forecasts that employment in information and communication will grow by 7.65 percent between 2021 and 2025 – the strongest regional growth in the UK.
The report also highlights that Millennials and Gen Z will be critical to filling the roles created by the tech sector. For employers, Birmingham has a clear advantage over its regional rivals, with a population of more than a million Millennials and Gen Zs – the highest of all the top 15 cities included in the Tech Cities report.
Access to a highly skilled female population is also an increasingly important factor to consider for tech companies. Again, Birmingham performs well when compared to other regional cities, with the highest number of degree level educated women, sitting 19 percent above the number of degree level educated men in the city. However, it is the lowest of all cities when looking at the number of total female population with a degree.
For the commercial property market, the expansion of Birmingham's tech sector presents both challenges and opportunities.
Theo Holmes, director and head of office agency at CBRE in Birmingham, said: "In line with the forecasted growth in employment, we expect take-up of office space in Birmingham by the tech sector, be it directly by tech companies or indirectly via tech-based jobs in other sectors such as business, professional and financial services, to increase over the next three to four years.
"The challenge for landlords and developers, in addition to the current constrained supply of office accommodation, is creating space that tech companies and their employees want to work in, be it flexible and co-working offices to incubation hubs.
"As the Tech Cities report highlights, the new generation of workers place great importance on workplace culture and work/life balance, as well as social and environmental issues. Companies that are in tune with this and can provide the right environment will attract and retain the best talent."
The world may have moved on since BT announced its plans for Birmingham, but the link between working culture, talent and the creation of great places to work remains constant.
This article appears in issue 10 of IN Magazine. All images tp bennett / hufton+crow