February 22, 2018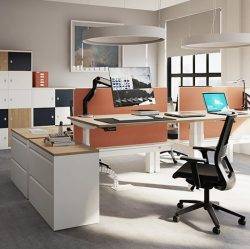 Bisley has launched Bisley LateralFile Lodge, a new range of lockers in response to the increased need within contemporary agile offices for personal, transient and temporary storage space. Bisley's new range of personal storage provides a timely evolution to this essential element of office design. Key features include:
Power  
Mobile technology is an essential tool for a majority of workers and running out of power can be disruptive. Bisley's new lockers are powered, making it possible to take a laptop away to a desk, only to be charged again when it goes back in the locker overnight, locked safely away behind a simple barrel lock, digital combination locks or an RFID (Radio-Frequency Identification) lock.
Zoning
A range of seamless back and surface material options such as acoustic performance panels or dry-wipe boards, and the absence of tie bars, results in a slick and contemporary finish.
The aesthetic appeal and multi-use of the of these lockers means that they do not need to be located on the perimeter of the floorplate, but become an integral part of the interior design, zoning spaces, enhancing breakout spaces and encouraging movement amongst employees.
Personalisation        
The 'hard to reach' bottom section of the locker stack can be modified to include a retractable personal drawer, maximising its capacity and accessible use. There is also the opportunity to further personalise each locker with business card/photo holders included as standard to increase the sense of ownership and belonging.
Choice and versatility
The range is available in a multitude of sizes (single or double height to suit requirements), colours, finishes and lock type. Planting tubs can be integrated on to the top of the storage units, enabling the incorporation of storage in biophillic workplace designs, increasingly popular due to the proven benefits for the wellbeing of employees. The wide range of aesthetics available for the tops and shelves, and the option of wood finish doors, mean the new locker range can be specified in any design scheme.
Helen Owen, Director of Business Development at Bisley says: "We accept that change is the only certainty in business but human nature will always dictate the need for employees to have a space that they can call their own. Lockers are a simple, effective and efficient way to provide this. The resurgence of the locker as the perfect storage solution for agile, dynamic workplaces, as well as supporting the co-working phenomenon is to be welcomed."
The full range of lockers can be seen here:
https://www.bisley.com/products/storage/personal/lateralfile