November 17, 2021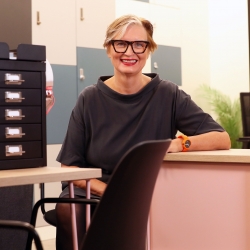 Bisley has appointed Jeanine Goddard as Creative Director. The role, which is the first of its kind, marks a long-term commitment from Bisley to design and innovation.
Jeanine takes up her new position after four years as Bisley's Showroom and Interior Designer, a role in which she oversaw the development of the Bisley aesthetic in the UK and internationally. She brings a wealth of expertise to the role, having originally trained as a cabinet maker and interior architect and subsequently worked with leading interior brands including Bulthaup and Herman Miller.
In her new role as Bisley's Creative Director Jeanine will work closely with Bisley CEO Richard Costin. The role will lead the creative direction of a new Product Development team and enable Jeanine to continue to diversify Bisley's product lines and creatively build upon the brand's design heritage.
Speaking about Jeanine's appointment, Bisley CEO Richard Costin, said; "This is the first time that Bisley has appointed a Creative Director and Jeanine was the natural choice.
"This is a hugely important role for Bisley and her appointment demonstrates our long-term commitment to our staff and our design focus for the future. Jeanine's notable industry experience and design expertise will be invaluable as we look to expand and diversify our product lines and enter new global markets."
Speaking about her new role, Jeanine said; "Being appointed as Creative Director is a natural progression of my work to date, and it is a hugely exciting step for me. The new product development is something I am really inspired by, as for the first time I am being asked to come up with fresh ideas and use new materials.
"It's a particularly interesting proposition at such a pivotal moment in time when the lines between the home and the workplace have become somewhat blurred.
Ever since my father, who loved working with natural materials, put me on my path I have loved furniture and design my whole life, and have always been surrounded by brands devoted to quality and craftsmanship. Bisley is no different."
Jeanine's new appointment follows on from Bisley's recent Manufacturer of the Year award win at the prestigious Mixology Awards, the industry leading celebration of the very best projects, products, and people in commercial interior design.