January 27, 2023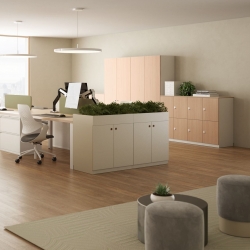 Bisley is to present its first ever showcase at the Stockholm Furniture Fair (7-11 February 2023), illustrating the multitude of innovative ways in which the brand's collections can support and enhance home working. Organised in four zones, the stand will focus on key products which tell the story of Bisley's wide-ranging expertise in designing and manufacturing office furniture solutions, at home and in the workplace.
Pren, a collection of freestanding wooden lockers and cupboards, will be shown alongside LockerWall, a fully customisable locker system which demonstrates the very latest fully operating smart locking system by valued Bisley partner, Keynius. Also on display will be Outline, which works not only as a versatile zone divider but also as a display and storage system, and the Hideaway Swing Desk, which allows the user to move seamlessly between home and work by effortlessly stowing away their desk in one easy move.
The stand will be brought to life with an inviting, contemporary colour scheme of lilac, coral and pale pink; hues which will also appear in a specially-designed curtain installation by Ludvig Svensson. As part of the display, Bisley will showcase the brand's upholstery fabrics, providing warmth, texture and a sense of softness to the stand. The curtain will be repurposed after the fair in Bisley's London showroom, illustrating their commitment to reducing waste.
Continuing the theme of reimagining materials for sustainable reuse, the stand flooring will be produced from packaging waste sourced from Bisley's factory in Newport, while the products on display will have a new life after the fair at the next event to be held at Bisley's Netherlands location.
Nuno Esteves, International Sales Director at Bisley, said: "The Stockholm Furniture Fair has a long tradition of presenting the best in design and craftsmanship in the world of office furniture, making it the perfect exhibition at which to present Bisley's innovative solutions. Our aim is to enable people to foster connectivity and creativity, and – most importantly – to provide the tools for working better, enhancing the landscape for today's workers, wherever they are based."
Brand collaborators appearing alongside Bisley and smart lock specialists Keynius on the stand will be lighting specialist, Anglepoise, and Deadgood, producers of beautiful seating and furniture.