July 20, 2022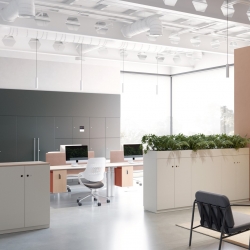 Bisley has introduced a new series of freestanding lockers, wardrobes, and cupboards to its product portfolio. Named Pren, which means "wood" in Welsh, the collection enables office occupiers to maximise their storage easily and seamlessly in the workspace. With purpose beyond storage, the Pren freestanding units act as zone dividers throughout the office, offering defined neighbourhoods where needed. Contra facing units are also available at different heights – so users can complete them with planter tops for the added benefits of mood-boosting biophilia, or create an extended, standing height bench with an oversailing top, reaching across two contra facing banks.
"The way we work has changed significantly in the last few years, not least after lockdown," says Chris Fowler, Director of International Projects at Bisley. "At Bisley, we've seen rising demand from our customers for more flexibility incorporated into their workspaces. For them, an environment that works around them – providing both practical and streamlined solutions – is key to achieving better productivity and staff wellbeing."
"Pren is designed for the modern office to fulfil its entire storage needs – we didn't want to simply offer a well- priced, standard range of wardrobes lockers and cupboards," Fowler adds. "By making the rear elevation of the furniture as neat as the front, and offering large oversailing decorative tops and planter options, Pren works really well as space divider – an important consideration in a post- pandemic workplace."
Pren complements Bisley's existing LockerWall range beautifully. Choose from eight solid colours, or five natural look laminate finishes, to incorporate a softer and warmer feel to the space. The laminate choices also match those available for LockerWall, creating the perfect symmetry.
Pren is designed to be entirely secure with a range of locking options; from the classic key or combination locks, to the latest smart locking solutions with remote management benefits linked to LockerWall.
The majority of Pren's parts are made at Bisley's factory in Newport, South Wales – meaning the lead times are significantly shorter than average. The overall collection combines generations of design and manufacturing knowledge with the simplicity of an easy-to-specify range.