June 3, 2019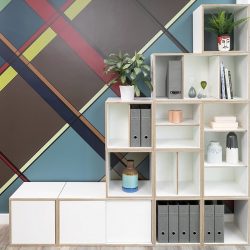 UK based storage firm Bisley has been awarded its second Design Guild mark for BOB, a hand-crafted modular storage and display system developed in collaboration with award winning British designer Paul Kelley. BOB's configurations can be adapted for any use and environment, whether at home or in the workplace. The collaboration unifies Kelley's design innovations with the craftsmanship and manufacturing expertise of Bisley.
BOB, a first all wood product for Bisley, is hand crafted and features a system that uses technology friendly magnets to securely lock the modules together. The beauty is in the simplicity and playfulness of the design; cubes and units click together to form different arrangements, allowing the user to change the design of the system instantly, whenever they choose.
Helen Owen, Marketing Director at Bisley commented: "We couldn't be more delighted to be awarded a Design Guild Mark for BOB. Collaborating with Paul Kelley on such a unique project has been a fantastic experience for Bisley. Together we have created a timeless quality piece of furniture that is functional, easy to adapt and beautiful, which allows people the flexibility to design their own spaces and reconfigure it instantly if their needs change".
The prestigious Design Guild Mark is awarded by The Furniture Makers' Company in order to drive excellence and raise the profile of British design and innovation. The Mark recognises the highest standards in the design of furnishings across two categories (Furniture and 2D) for volume production, by the finest designers working in Britain, or British designers working abroad.
The Design Guild Mark is independently judged by a panel of renowned experts in their respective fields and bring a wealth of knowledge and experience to the process. A Design Guild Mark can be awarded, for a design, which is in current volume production. Evidence of this must be provided in terms of the design process and the means of production.
Furthermore, it must be designed:
by any British designer, or
by any United Kingdom based design practice
to demonstrate excellence in design, materials, manufacture and function