June 3, 2019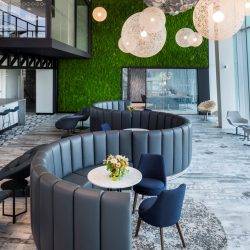 When attending last year's CoreNet Global Summit in Boston, there was a poll of the real estate executives gathered to discuss the key trends affecting the world of commercial property. During the event we were asked about our attitudes to coworking by the event organisers and Cushman & Wakefield. What emerged was a portrait of genuine revolution in real estate thinking. The number of employees from the respondents' organisations using coworking space had doubled in the previous two years and now stood at around 11 percent of all employees. When asked to predict how that number would develop in the short to medium term, respondents claimed it would be around 17 percent in two years and 23 percent in five years.
What is especially interesting about this is that these are major corporate occupiers who say that nearly a quarter of their workers will work from coworking space to some degree in the near future.
Although it may have flourished in cities like London where property prices were prohibitive, it is already a disruptive force in cities such as Glasgow, Birmingham, Manchester and Bristol
It is clear evidence that a phenomenon that was catalysed by its ability to a provide flexible and attractive accommodation for start-ups and freelancers in the expensive tech and creative hubs of globalised cities is now a core element of real estate strategy for a much wider range of organisational types.
This also means it is expanding geographically as well as by sector. Although it may have flourished in cities like London where property prices were prohibitive for the start-ups that needed to co-locate with the tech, telecoms and creative giants that offered them work, it is already a disruptive force in cities such as Glasgow, Birmingham, Manchester and Bristol. Each of these cities is home to a successful community of freelancers, smaller firms as well as the larger organisations who work with them.
So, what exactly is the attraction of coworking for all of these businesses?
Flexibility
In the CoreNet poll, three-quarters of the respondents said that the main benefit of coworking to their organisation was the ability to cut costs and adapt a corporate real estate portfolio quickly and at low cost, especially as part of a flex and core model.
This is not too dissimilar to the motivation of smaller organisations. Smaller firms and start-ups may experience more rapid growth, but the ability to respond to change is a universal need.
Coworking space is also a way to effectively outsource day to day facilities issues such as cleaning and maintenance as well as the all-important provision of WiFi.
Productivity and wellbeing
A coworking office adds structure to the days of freelancers and mobile workers alike. They allow people to network, collaborate and engineer serendipitous encounters with each other. Because they are based on an agile working model which encourages people to find the most appropriate space for the task at hand and to meet their individual needs, they encourage movement and improve general wellbeing.
The ability to work alongside like-minded people can also provide support and new opportunities for the people who work in the space.
According to a report in the Harvard Business Review, people who work in coworking space report levels of thriving of around 6 on a 7-point scale, which is slightly over a point higher than the average for employees who do their jobs in traditional offices.
Community and experience
One of the most important characteristics of the best office designs is the way they create a sense of community and the sort of experience that people now demand from their workplaces. There is often a social aspect to coworking that might include after work drinks and shared meals, sports and other activities. This reflects the role that work has in structuring our time and providing us with purpose and relationships.
It's no coincidence that many of these characteristics are common to a growing number of workplaces and not just coworking space. In the HBR report mentioned earlier, people especially appreciated the way that coworking space gives their jobs more meaning and offers them more control over their day to day experiences.
The community within a coworking space is likely to offer sources of business and personal advice as well as possibly finance and new business development opportunities.
For larger organisations there is also a sense that working alongside smaller organisations and freelancers can offer them the opportunity to work with new talent and share ideas and information.
Location
The original driver of the coworking phenomenon was the need for start-ups to be closer to the centre of the tech enclaves that provided them with work. This is just as pertinent now as it has ever been, but it applies almost as much to larger firms who also want access to hothouses of talent.
Locations should also form part of the workplace experience with access to cafes, restaurants shops and public transport.
One new aspect of the location issues is the ability coworking offers people to work in locations that suit them better. Given that commuting and the effects of travel and long hours are the most cited reasons people have for being unhappy in their work, the ability to cut down on time spent in cars, trains and buses and perhaps walk or cycle to work instead can be a major contributor to wellbeing and productivity.
__________________________________
Aki Stamatis is Chairman of Fourfront Group and The United Workplace. Aki will be speaking at the eOffice Coworking Conference on Friday 28th June. Book your place here.