April 27, 2015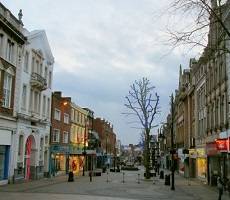 Smaller cities, including Brighton, Solihull, Reading and Warrington [pictured], look set to see a growth in occupier demand for office rentals over the few years, a new report has revealed. JLL's 'Where Next in the UK?' report analysed the economic and office market performance of 37 smaller towns and cities giving an insight in to which locations will offer investors the biggest opportunity over the next five years. It shows some smaller cities are found to have a stronger outlook than the 'Big 6', (Bristol, Birmingham, Manchester, Leeds, Glasgow and Edinburgh). The success of these smaller cities, says the report, will be closely associated with their ability to develop and grow clusters of businesses, for instance a growing nuclear research and technology cluster in Warrington – along with strong university links and the provision of integrated transport and infrastructure.
'Growth leaders' – including Brighton, Solihull and Reading have seen capital value increases of over 25 percent since the end of 2012 and are expected to see a stronger than average economic performance over the next five years, with the outlook remaining solid for these cities, most of which have firmly established business clusters.
The report also reveals locations such as Oxford, Warrington, Southampton and Nottingham, with a similarly strong economic outlook but where recent capital value growth has not been as strong as the growth leaders and opportunities may actually be greater going forward. These' potential performers' include a broad range of property markets that JLL anticipates could benefit from further capital growth as the property market continues to respond to the improving economic climate.
Chris Ireland, Chairman and Lead Director – UK Capital Markets at JLL, said: "The outlook for the UK's smaller cities is now more optimistic than it has been for some time. Our research shows potential performers, including the likes of Oxford and Warrington, should benefit from further capital growth over the coming years as the property market continues to improve. Indeed, the potential for growth in some of the smaller cities may be greater than in the Big 6 regional centres which have already seen substantial uplift.
"From an occupational perspective, we think there will be a gradual shift towards office rental growth in a number of these centres which should ensure continuing investor and developer interest."
Ben Burston, Head of UK Offices Research at JLL, added: "Strong business clusters are a key determinant of future growth prospects.  For instance, Oxford's strong life science cluster is contributing to a robust employment growth outlook, while Warrington is benefitting from a strong nuclear research and technology cluster.
"The devolution agenda provides an opportunity for more decision making to be taken at local level, which could help drive improvements to transport, infrastructure and public realm that will help attract people and businesses, and thereby drive future growth."
Cities identified in the report as 'awaiting lift off' include Sheffield, Belfast and Newcastle. These cities are forecast to see slower than average economic growth. As a result, investors may need to focus on the best and most established locations within each city, and in some circumstances quality properties may be available at a discount relative to other centres.