October 19, 2023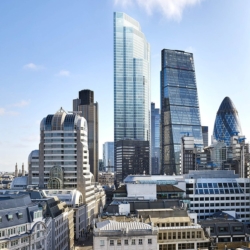 Caleb Parker, the high profile Founder of Bold has announced the launch of Brave Corporation, a "next generation" real estate company that aims to "bridge the gap between office supply and demand to mitigate the rise of stranded assets amongst the world's largest asset class". Brave Corporation will work with investors to "reposition buildings to meet ESG standards and dynamic customer demand" before they risk becoming "stranded". The company says it will target and reposition assets in high demand markets with space-as-a-service led asset management strategies.
Parker's Bold brand and platform was acquired by NewFlex in 2019 to advance their growth in delivering flex space for landlords on management agreements. While many void and free rent periods extend beyond 6 months in the traditional leasing model, his Bold brand, chosen by Orchard Street Partners, reached 90 percent occupancy within its first 6 months in Manchester, England.
During his tenure at NewFlex Parker helped IKEA develop their Hej!Workshop brand in Stockholm, Sweden, which has now expanded into the U.S. He also played a pivotal role in the creation and launch of AXA IM's flagship coworking brand, XCHG at 22 Bishopsgate in London, England.
Parker is the award winning host of the Space-as-a-Service focused WorkBold Podcast, with an audience across 90 countries and ranked in the top 1 percent of business podcasts globally. You can hear him in a 2022 conversation with Mark Eltringham of Workplace Insight here.
Parker believes that the traditional office is grappling with cratering demand, with long-lease footprints shrinking by tens of millions of square feet and asset values plummeting. Meanwhile flex space is seeing a 10x growth in demand in many markets as office customers use lease events to shrink their leased office footprints. Parker claims a new model is required to restore the future of this asset class. "It's time for office real estate to evolve from static white boxes to a dynamic service-led industry", he says.
In response to this shift in demand for operational real estate, the company is dedicated to creating vibrant, community-driven "Full Stack" Campuses that prioritise hospitality and flexibility, while providing on-demand, fully managed spaces, and flexibly leased HQ spaces in city centre locations through a fully connected customer experience.
Expected customers range from entrepreneurs and startups to fast growing scale-ups and growth driven enterprise teams. Additionally, a curated network of locations will support customers wherever their work takes them.
Other Founding Board Members include Nella Pang, MD of Omega Real Estate, Sam Gamble, veteran developer and CEO of ?ex valuation software ReturnSuite, Dave Cairns of CBRE, Manuel Conti, former CTO of IWG plc and CEO of PONT, and o?ce futurist Antony Slumbers. The company will unveil its branded Full Stack Real Estate Platform, team, capital partners and strategic partnerships in the coming weeks.
Despite his departure from NewFlex, Parker remains a shareholder in Bold, a joint venture predominantly owned by NewFlex. Notably, Parker will continue as the host of the #WorkBold Podcast through a contract with NewFlex. Furthermore, NewFlex will serve as a preferred operating partner for Brave Corporation.