April 14, 2015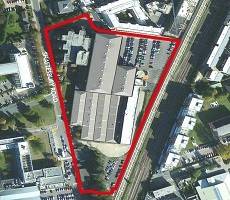 Both Oxford and Cambridge are experiencing a huge increase in office take-up, but despite Oxford's reaching an all-time high last year, it is still three-quarters that of Cambridge. Research by Savills has revealed that Cambridge's office take-up is double what it was 10 years ago. Now a new 39 metre office tower has been approved by Cambridge City Council which will house Cambridge University's international exams group, Cambridge Assessment. Called The Triangle site the new building will be situated on Shaftesbury Road in Cambridge, which was previously home to Cambridge University Press's Edinburgh Building. The new building will be designed to bring together Cambridge Assessment's locally-based staff, currently based at 11 different sites – into one headquarters by 2018, when staff numbers will be about 2,300.
The building, designed by architects Eric Parry Associates, will include a courtyard entrance and extensive green and outdoor spaces as well as the 39.1 m tower that will be visible when approaching Cambridge from the south of the city.
Approval from the City Council follows a period of public consultation at which members of the public were given the opportunity to comment via a drop in surgery, the Triangle website and the City Council's planning department website.
Cambridge Assessment Group Property Director Andrew Spendlove said: "We are delighted that we are now able to proceed with our plans to create a building that is sensitive to its surroundings as well as creating a fantastic place for our staff to work that offers additional high quality employment opportunities as we move towards full capacity around 2025.
"We are pleased to engage with the local resident groups about our plans and gauge their views and we will continue this as the work progresses."
Carter Jonas incorporating Januarys advised on the planning. Said Colin Brown, partner and head of planning & development in Carter Jonas, Cambridge: "This is a milestone moment for Cambridge Assessment, as the process of locating a new site for their occupation has been an arduous one. The planning process has also been time-consuming and complex, but that is inevitably the case for such a significant and prestigious new building. We are thrilled to have played our part in its delivery."
It's expected that occupation of The Triangle will take place in 2018, reaching full capacity of 3000 staff by 2025.