December 12, 2014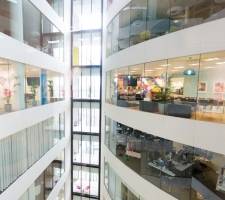 It is rare that organisations are totally satisfied with their current culture. They will often see what can be improved and at the same time recognise that these improvements will inevitably stem from a change in behaviour or the attitude of their employees. What is important to remember is that a change in the design of the physical environment will not, by itself, change the culture of an organisation. But workplace design can reflect the desired culture of the organisation, and help to promote certain behaviours and attitudes. It can also help to reinforce the unique attributes of your organisation in a powerful, subliminal way. Culture results from the values and behaviours of employees and is best understood by the relationships internally between individuals, teams and departments. Culture can also be seen through relationships externally with customers, suppliers and stakeholders
So let's hazard a guess about some of the desired organisational values (thanks to Peak Performance for their research). These might be:
Teamwork
Open Communication
Information sharing
Creativity and innovation
Customer satisfaction
We can immediately see how the workplace could dramatically affect some of these by creating environments that stimulate teamwork, promote open communication and information sharing. That's why successful open plan offices are so popular.
However, when engaging with employees prior to a workplace project, what we think sounds like a good idea on paper might not be best used in practice. It totally depends on the personalities of the people and the type of work required. Great teamwork might require quiet spaces or private rooms for virtual team working. Information sharing could be informal places or meeting rooms or even technology led. Open communication might require better and quicker access to different departments or leaders being in the throng of things and not sequestered away on the top floor.
Creativity and innovation is a common desire of many organisations. Talk to people in your organisation and you'll find out what they need. Perhaps it's 'no-go' technology areas. It might be larger tables or open spaces for collaboration. It could be different tools and resources. Yes, it might be a pool table and a bar.
Your people know what they need. They also know what they would like to have. Organisations can be scared to ask their staff, the misconception is that they'll just get a list of gimmicks in response or that it will unleash a tidal wave of dissatisfaction or biting criticism. This is not the case. In a managed and sensitive way, engage with your employees. Ask them in-depth questions about their roles and responsibilities. It's often more successful when someone external to your organisation asks the questions, avoiding any hierarchical or political grandstanding issues. See where the real stress points are. Be honest about what is possible and what should just remain on a wish list. This is itself is a culture-changing initiative and does a lot to demonstrate the values above. It can create a positive feedback loop between employee and organisation. And after all, if we can't exhibit and clearly demonstrate the behaviours and values that we want our people to have, then why on earth should we expect them to.
Finally, don't be afraid to use these discussions to shape a new way of working, consider how your existing or new space could be shaped around the knowledge of your staff and what they feel your organisation represents. The knowledge gained from engaging your employees in open dialogue can be surprising and humbling, from simple but modest changes, such as the need for a new coat stand, to the potential uncovering of fundamental flaws.
This pre-design engagement exercise gives data and information about why improving the workplace design is necessary. It will give good reasons for change. It will demonstrate that you are thinking seriously about your people and how they work. And it will often surprise you. It doesn't need to be expensive to achieve, take months to implement or disruptive to your staff. You'll then have a workplace that meets the real needs of your people, for today and the future. That's when attitudes and behaviours will change, because your people see that you care. And what we care about, we look after.
_________________________________________________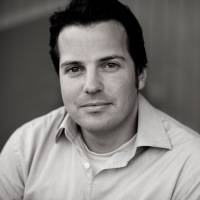 Adam Burtt-Jones is Design Partner at Burtt-Jones & Brewer LLP