November 10, 2016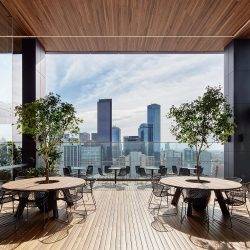 Features such as baristas, sky terraces and fine dining will continue a process of transformation at the workplaces of Australia's leading law firms over the next few years, claims a study by Melbourne based architecture practice Bates Smart. The report claims that the legal workplaces of today are are already unrecognisable compared to what was considered typical yesterday, having more in common with a five star hotel than a traditional office. Bates Smart predicts an even greater shift towards flexibility, collaboration and hospitality from legal firms in the future with the publication of four key findings in its new whitepaper, The Legal Workplace 2020, The report analyses trends in over 135,000 sq. m. of legal practice workplaces and draws conclusions that are indicative of key trends for law firms and the wider market alike.
The key findings are:
1) Lawyers are leaving their offices with only 35 percent remaining
2) Lawyers are sharing space with a 25 percent increase in open collaboration spaces and a 15 percent increase in enclosed collaboration spaces
3) A new legal workplace model is emerging to allow for flexibility
4) The hospitality revolution is here.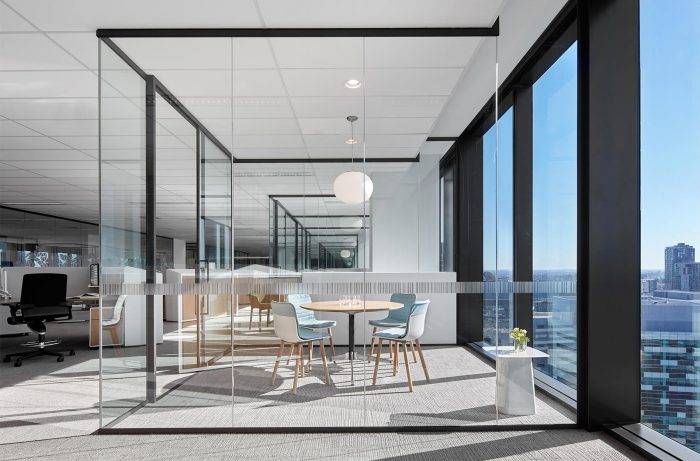 Bates Smart foresees the biggest challenge in the future being, how the firms' teams adapt to more collegiate environments and believes law firms can learn from professions where technology has already had an impact – the financial workplace or 'fin-tech'.
Kellie Payne, Associate Director, Bates Smart comments: "While t-shirts and ping pong may seem a long way from the legal workplace, there are some striking similarities between legal and fin-tech firms. We are now looking at how fin-tech firms accommodate the future through agile spaces, mobile staff, reducing and centralising storage, space utlisation and where this is this relevant to law firms. Flexibilty is paramount."
Bates Smart has seen the legal work place change over the last decade in order to be more functional and flexible. Legal markets are undergoing disruption with new models of service emerging. There is pressure to decrease margins, increase productivity and improve client service standards. By 2020 Bates Smart expects to see the Integrated Team model adopted widely across the profession, with 15 percent of fit outs dedicated to client hospitality and more agile spaces, meaning a more mobile workforce as lawyers are thrust into the digital age.
By 2020 Bates Smart further predicts:
Only 10 percent of legal staff will occupy offices
34 percent of the legal fit out will be dedicated to collaboration
Layouts will be denser – upto 10sqm per person
15 percent of the total area will be dedicated to clients, more than double that of 2013
A shift towards space sharing, with 30 percent of that client area shared between staff and clients.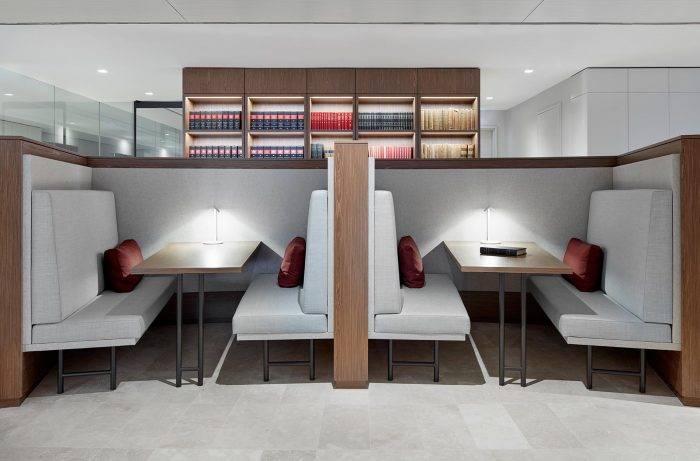 Bates Smart says the main reason for the shift in legal workplace design is cultural change but the desire to use the workplace as a business tool is also a driving force. Kellie Payne of Bates Smart comments: "The legal workplaces we have designed are symptomatic of major cultural and business changes in the legal profession. Lawyers are looking to collaborative work methods to deliver efficiencies and an open plan environment can better support this work."
"Firms are also looking to access the 'human database' of knowledge and experience rather than working in silos. Young staff value interaction rather than isolated work – cellular office environments support neither of these demands. With real estate the highest cost for firms after salaries, large offices sitting empty for over half the day are bad for business. Technology and workplace innovations are allowing greater flexibility in how and where lawyers work, thus increasing the utilisation of all of the spaces, including individual work areas."
Lawyers are sharing more space than ever, but not in the same way of other industries. The legal office will remain a place for focussed work. Since 2007 there has been a 500 percent increase in the provision of quiet, focus rooms – replacing offices. From 2007 to 2013 there was an increase in both open collaboration and focused spaces. By 2016, open collaboration spaces have decreased by almost 50 percent. Large open collaboration spaces are challenging for lawyers. They are too disruptive for those in the adjacent 'quiet' workspace.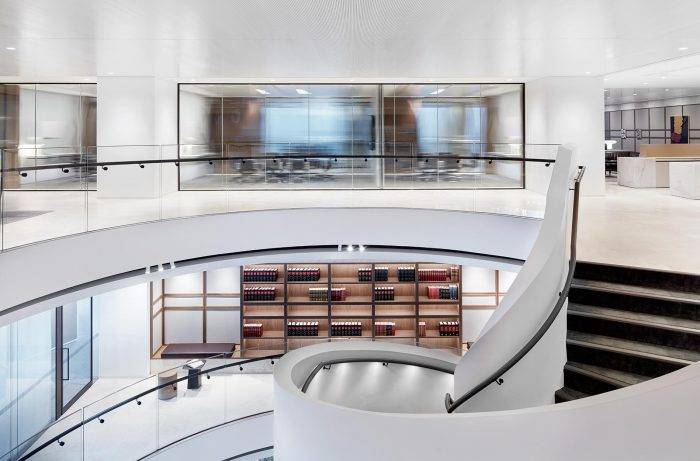 The new model of the Integrated Team layout has emerged to help solve this challenge and provide a flexible arrangement of spaces for each of the work modes – focus, collaboration, learning and social spaces.
Kellie Payne comments, "Many law firms are testing whether a more open environment will suit their workstyle and culture. By opening up the workplace and allowing teams to be flexible and mobile, creating sightlines between floors and easy access via internal stairs, and by creating spaces to temporarily integrate team members who need to share knowledge and create a collegiate environment."
Flexibility is also key in the front of house spaces as firms look to a personable and unique experience. To this end, firms are blurring traditional boundaries between staff and client areas. The staff café / breakout space can also open up further to create unique large scale entertaining spaces. Conversely clients are offered views into open plan work areas to display the depth of talent.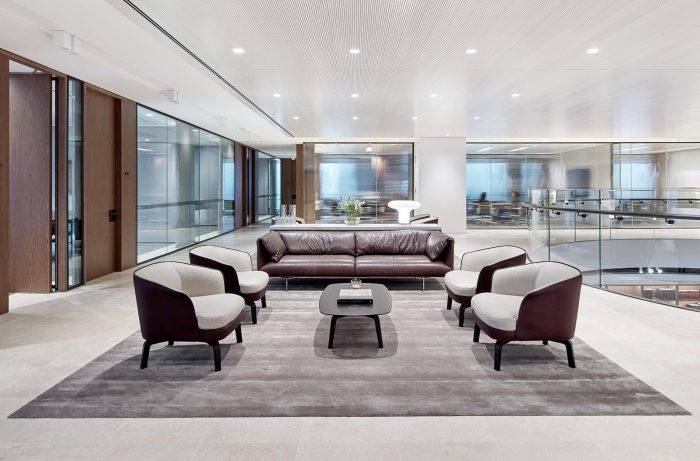 Guy O'Connor of law firms Maddocks (pictured) said: "When we made the decision to move to Collins Square, we wanted to make sure that our new offices would support the range of ways our people collaborate with each other and with our clients, and the different types of work our lawyers do during a day. That meant having spaces specifically designed to cater for large and small meetings, video and teleconference meetings, and breakout spaces for our people looking for a quiet area to conduct sensitive or urgent work without distraction. We also wanted communal spaces for us to meet with clients either formally on our client floor or informally in our employee-run café or outdoor deck. The way our people have adapted and used these spaces shows the power of good design and the influence of well-considered spaces on work habits."