August 16, 2022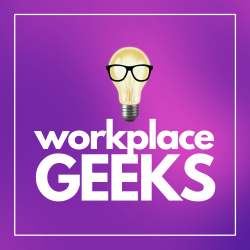 In this final episode of the current season of Workplace Geeks, Chris and Ian welcome the inimitable Perry Timms, HR magazine's most influential thinker of 2022. Perry heads up PTHR, a B Corp-certified organisational design, performance and change consultancy that most definitely walks its talk, has written two books, and holds various academic positions. The discussion takes 'The state of HR: 2021', a report he wrote last year with Anna Hobson and Katy Stanley for HRZone as a starting point, and explores current and future themes for HR, workplace professionals and business more broadly.
The legacy of the pandemic's impact on work and workplace is the opportunity for a coalition between business leadership and workplace professionals. HR's role in this needs to be about focus on, adaptation to, and delivery of increasingly complex challenges, including establishing new performance baselines, developing team and leadership capabilities, and enhanced systems and practices that enable increasingly distributed and autonomous working. To achieve this though, workplace professionals need to honestly consider their confidence, capability and capacity – the limelight of coalition presents opportunities, but also raises performance expectations. Get this right and business can be better – for people, for performance, and for the planet.
All episodes of Workplace Geeks can be found here.