August 18, 2022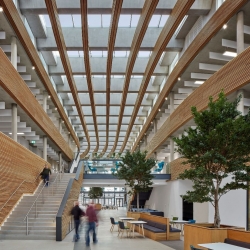 A new report from Poly warns that hybrid working policies could be destined to fail if organisations do not protect company culture while facilitating "a return to office". The report claims that getting employees back to the office is a challenge being fuelled by a reluctance to return, with employees citing concerns over work-life balance and productivity. This reluctance is exacerbated by rising bills and spiralling inflation, with the cost of living putting increased pressure on employee finances, causing them to potentially choose between traveling to work or spending that money elsewhere. 
"The return to office lacks a compelling narrative, and short-term gimmicks like free coffee and doughnuts have run their course," commented Paul Clark, Senior Vice President, EMEA at Poly. "Hybrid workers need a good reason to return. A good analogy from the report is the need to take a Glastonbury inspired approach to the office experience. When you hear people talking about why they went, they never say it's because of how nice the Pyramid stage looks. The appeal is the total experience festival goers get – the food, the bands, the people. A similar mindset is required for the return to office, which on its own isn't a good enough reason for employees to return. Culture must be maintained, so organisations need to think about the total experience – how spaces work, the technology behind them and address cultural issues. Doing this will help to magnetise their workforce to the office, instead of mandating a return or using 'guerrilla tactics' to force employees back."
The return to office is being hampered by the "Reluctant Returner" effect – according to a report by Unispace, nearly two-thirds (64 percent) of European employees are unwilling to return to work, citing safety fears, working around childcare, commuting times, loss of productivity, and an inability to focus while in the office. Research from Poly supports this, showing that the size of the office-based workforce, that spends more than 50 percent of their time in the office, has dropped by 25 percent.
The cost-of-living crisis is also biting. In July, the ONS reported a 3 percent drop in regular pay when taking rising prices into account. Energy bills rose by 54 percent in April 2022, and are due to rise higher over the next few months according to analysts – and the average rail season ticket is expected to grow by 12 percent. Rising bills have some employees questioning the value of going to the office, prompting some companies, such as Lloyds, HSBC, Rolls Royce, EasyJet and Moneysupermarket, to offer a cost-of-living pay rise.
"Getting hybrid workers back to the office is pivotal to an effective hybrid work model, but the country is facing a perfect storm," concludes Clark. "The cost-of-living crisis is having a huge impact on finances, leaving many employees weighing up whether to travel or save the money to spend elsewhere. More than ever, employees are asking themselves 'Why do I need to come in?' – but this question isn't being answered. Organisations should focus on protecting culture. But they must also provide staff with a compelling reason to return to the office that makes it worth their time, and money, while also implementing the technology required to enable employees to work from anywhere."
Image: Taunton's UK Hydrographic Office Headquarters was named 'Best of the Best' at the British Council for Offices' (BCO) National Awards 2021