September 1, 2022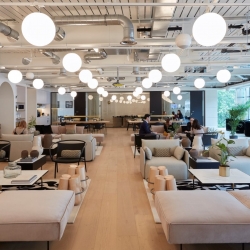 With SME's accounting for the employment of more than half of the UK's workforce, supporting these businesses is of benefit to everyone while geopolitical events and the impact of the pandemic continue to cause economic uncertainty.  Entrepreneurs and small businesses are vital for spurring on evolutions in our technology and creating new markets for services and products, therefore bringing about competition which in turn boosts productivity that benefits our own and other economies, helping them withstand and recover faster from financial downturns.
We're working specifically with Camden Council because it's the borough within which we operate and we want to invest, celebrate and promote the talents of the entrepreneurs and people from these local communities, as well as our local council who have the admirable goal of making Camden one of the best places in London for entrepreneurs to base themselves and their business.
We understand and agree with the council that access to proper workspace for entrepreneurs and small businesses can have a catalytic impact on them as it provides networking opportunities, space to properly focus on their work without the distractions of home and gives them a professional place to meet clients.
Fundamentally, we believe it's important that all established businesses should find ways to support local entrepreneurs and small businesses because as they hopefully grow, these companies can provide more job opportunities and salaries for more local workers. And with a high employment rate and competitive local labour market, the community is more likely to have disposable income that in turn benefits other businesses. Money must circulate locally and further afield through earning and spending and if this does not happen, we risk market stagnation which can lead to an overall increase is prices and local business closures, as seen across the country through 'the death of the high street' which saw an average of 50 high street stores a day close during 2021'
The social impact of local businesses also cannot be ignored. Local startups and small businesses, particularly those of minority communities, act as gathering places that foster community exchange, learning and spirit. They're rooted in the landscape that they reside in, and community members are more protective of these businesses because they've developed a closer, more emotional bond to them. This fosters local prosperity because money spent at a privately owned local store will pay local workers who are also likely to spend within the area.
Not only are small businesses responsible for a large percentage of local job creation, but workers typically find more job satisfaction working in smaller companies than larger ones. The opportunities within these businesses are likely to be more meaningful, especially when the impact is tangible throughout the community. This is vital for nurturing talent that may want to enter larger corporate workforces in the future or remain within the community to continue to support its development.
Finally, the benefits for established businesses are undeniable. Particularly for the property industry, initiatives of this kind can contribute to CSR and ESG targets for projects or companies in a variety of ways. In addition to this, smaller businesses/entrepreneurs may produce products of services that can support larger businesses, the knowledge exchange that will inevitably take place will bring perspectives that may not exist in your company, and genuine support for smaller businesses will positively impact your brand reputation and should help recruiting and retaining employees from the local area, and further afield.
Local startups and entrepreneurs need support now more than ever. With record breaking business closures reported by the UK Office for National Statistics during 2020 and 2021 due to the pandemic, businesses face even greater challenges and barriers-to-entry due to the cost-of-living crisis, rising inflation, and consumer hesitance. If our economy is to recover, it is vital that established businesses do more to support the variety of new ideas, creativity and talent of smaller businesses, so that we can everyone can benefit in an equitable, balanced way.