November 27, 2019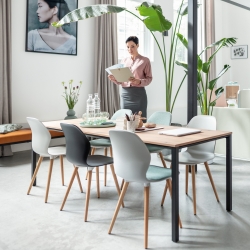 After Sedus confirmed its status as one of the most important office design innovators in Europe at last year's ORGATEC trade show in Cologne, several of the firm's latest generation of ground-breaking products have won prestigious design prizes in the firm's native Germany.
The se:flex and se:motion swivel chairs as well as se:fit standing seat and se:cube Office Cubes have each been awarded the German Design Award 2020 – Winner by The German Design Council while the se:spot all-purpose chair went one step further receiving the Gold German Design Award for 2020.
The German Design Award is one of the most coveted design prizes in Europe and is awarded every year by a prestigious international jury. The Award honours innovative products and projects, their manufacturers and designers who have proven themselves pioneers in the German and International design sector.
The five award-winning office furniture pieces were developed by the Sedus Design Team, and launched for the first time to the public at the ORGATEC 2018 trade fair. They went fully into production in 2019 and have also been used in the fit-out of the new office building at the firm's headquarters in Dogern.
In the Sedus Smart Office around 100 employees from twelve disciplines work together in a uniquely collaborative and flexible working environment. The spaces serves as a test laboratory, prototyping and model workplace for designers and customers travelling to the Upper Rhine location from all over the world.