July 8, 2022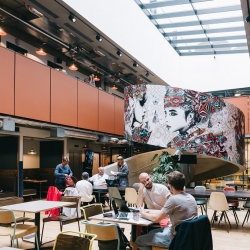 Hybrid working policies are driving demand in the flexible workspace market as companies are using coworking and serviced offices at record levels. In its annual UK Market Update Report, The Instant Group's data claims that demand for flex office space across the country is up 22 percent in the last 12 months. Cities – such as Leeds and Manchester are leading the way in this increase although there are also signs of a recovery in central London. The size of the space being taken with flex operators has also increased by 44 percent since the pandemic as larger companies incorporate more flexible workspace in their real estate portfolios.
With the surge in demand for flex office space, the supply of new centres is growing and diversifying at a rapid rate, the report claims. New supply is primarily coming from traditional landlords. GPE has announced that it aims to grow its flex office offering from 13 percent to 25 percent of their total portfolio by 2027, and CBRE have taken over 40 percent of Industrious to boost their flex product. Many other landlords are already following suit, shaking up the flexible landscape in the UK.
Supply of new workspace grew at 5 percent throughout the pandemic but that rate of growth is expected to double this year. The number of flex spaces will double by 2026 and account for more than 150m sq ft of office space in the UK, or 10 percent of total UK office space.
Despite the increase in supply, average workstation rates are up 4 percent on H2 2021, currently averaging £408 pcm across the UK. This is primarily due to demand in major cities picking up as well as operators increasing rates to cover inflationary costs.
The data used in the report is based on Instant Group's own platform.