February 2, 2023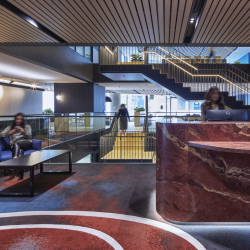 Just what is it that you want to do? People of a certain age will know what answers come next. The rest of you can scroll down to find out. At least two-thirds of those responses still resonate when you ask people want they want from their work and workplaces. They wanna be free to do what they wanna do. And they wanna have a good time. And that's what they're gonna do. These are the exact same responses you hear when THE great, existential questions facing the office sector and occupiers are brought up along with those others that follow on from them. What is the office for, how should we design it, what does it do better than other places of work and what do people really want from it?
These are the great big questions addressed in the expert round table hosted by BW Workplace Experts in London recently and published in the new issue of Works magazine. Possible answers, beyond the obvious – freedom and having a good time – were offered up by experts like Dereck Dziva, Barbara Schweier, Ines Stanley, Gary Wingrove, Chris Moriarty, Dan Callegari and Freya McGhee. Far from being disheartened by the challenges of the past three years, they agree that the way we respond to those challenges and the reshaped world they forged will push offices into interesting new directions.  If you want to find out more of what they said, you'll have to read the magazine.
Elsewhere, you'll see it's an issue with its heart in the right place. We look at very current people-focussed topics including designing for neurodiversity and the role of a new generation of workplace apps in offering people a much improved working day. We preview London's Workspace Design Show in February, meet the Stockholm creatives pioneering a new approach to design, visit a people-centric US office and return home in time for a few drinks and a catch up with our friends Gurvinder Khurana from M Moser and Nigel Tresise from align.
Away, baby let's go.
All back issues of Works can be found here.