June 19, 2014
The awards programmes pile up at this time of year and following the announcement of RIBA's best workplaces for the year, four buildings, from the United States, Australia, the Netherlands and the United Arab Emirates, have been named the best tall building in the world for 2014 in their respective region by the Council on Tall Buildings and Urban Habitat (CTBUH). An overall winner for the "Best Tall Building Worldwide" will be named from the four regional winners, following presentations from the owners and architects of each building, at the CTBUH 13th Annual Awards Symposium, which will take place at the Illinois Institute of Technology, Chicago, on November 6. The symposium will be followed by the Awards Ceremony and Dinner in the iconic Crown Hall, designed by Mies van der Rohe. The 10-Year, Urban Habitat, Lifetime Achievement, Building Performance and Innovation awards will be announced in the coming weeks, and will also feature at November's awards events.
The four regional winners are :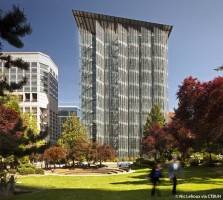 Americas: The Edith Green-Wendell Wyatt Federal Building (left) is a renovation of an existing 1970s office tower, transforming a banal "energy hog" into a high-performing, attractive building that seems more lightweight by an order of magnitude, yet affords more floor space than the previous version.
Asia & Australasia: One Central Park (right) uses two unusual technologies for tall buildings –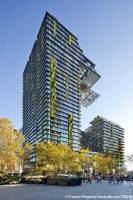 hydroponics and heliostats – to grow plants around the periphery of the building at all levels. The project presages a future in which biomimicry is no longer a radical concept in architecture, while inverting a perception that tall buildings can only block light and rob the urban environment of natural greenery.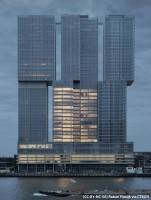 Europe: De Rotterdam (left) is an exercise in formal interpretation that is at once reminiscent of an imported mid-century American skyscraper, but epitomizes the off-center experimentalism of modern Dutch art of the foregoing century. Though it is the largest building in the Netherlands, its mass is broken down into three interconnected mixed-use towers.
Middle East & Africa: The Cayan Tower (top) is a 75-story luxury apartment building with a striking helical shape, turning 90 degrees over the course of its 304-meter height. Each floor is identical in plan, but is set 1.2 degrees clockwise from the floor below, giving the tower a distinctive form by way of an innovative, efficient, repeatable structure.
More information on all the winners and shortlisted finalists here.