August 6, 2019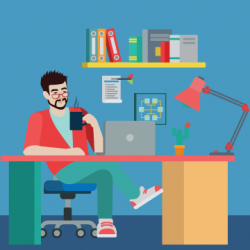 British people increasingly work in temporary positions and on short term engagements: part of a fundamental global shift in the way we work. The domestic gig economy has seen the number of workers more than double in number since 2016, according to a recent report from the TUC and the University of Hertfordshire (conducted with Ipsos MORI). Based on interviews with 2,235 individuals, the report's key finding is that gig economy platforms, such as Uber, Deliveroo and Upwork, are now staffed by 4.7 million workers – or one in 10 working-age adults, up from one in 20 three years ago. It also found that 15 per cent of survey respondents had undertaken gig economy work at some point – equivalent to almost 7.5 million people if extrapolated across the entire economy.
This confirms a long-term trend away from traditional patterns of working. Since the millennium, the increased use of technology in almost every aspect of working life has created a sea-change in the way people work, where and how they work, and for how long.  But the law has not kept pace with these changes. In part, this is because atypical working is one of the trickiest areas to legislate for.
The proposed package of policies has the potential to improve the working lives of many thousands of people
In a belated attempt to ensure that protection does applies to gig economy workers and that they don't 'slip the net', the government is consulting over changes to the law requiring workers to be compensated if shifts are cancelled on short notice. Workers may also be given the right to change their contract so that it more accurately reflects the hours they work. Both changes are part of government plans which aim to provide gig economy workers with greater stability.
Implementing a recommendation from the Low Pay Commission, new legislation will aim to create a right to switch to a more predictable work pattern. Primarily directed at shift workers and those on zero-hours contracts, workers who routinely undertake a certain pattern of hours could have this written into their contract. Employers who refuse to alter existing contracts would have to justify their decision based on conditions to be outlined in the legislation.
The government has also launched a consultation on a package of other reforms based on recommendations made by the Low Pay Commission last December and in the earlier Taylor Review. Employers could be forced to compensate workers for cancelling shifts at short notice: employees will be entitled to a reasonable notice period when shifts are allocated and be protected from being penalised by employers for not accepting shifts at short notice.
These proposals form part of the government's Good Work Plan to overhaul workers' rights in the UK. The proposed changes – part of a package of policies – have the potential to improve the working lives of many thousands of people.
Falling short
Online gig workers – anywhere from Mumbai to Mexico City – experience long working hours and low rates of pay with little, if any, employment protection
But they fall short of addressing how the gig economy is facilitating the rise of a global marketplace for online labour: a new facet of globalisation which is facilitated by technology. This kind of gig economy platform focuses primarily on service sector work that is done remotely. Typically, work in the form of projects is sub-divided into a series of tasks or assignments – anything from data entry, transcription and translation to copywriting or coding. Thanks to the global reach of technology, workers who fulfil these tasks can be based anywhere in the world.
This strand of the gig economy, sometimes labelled the "human cloud", is growing rapidly with much of the work going to countries in the developing world where costs are significantly lower. Competition is also fierce. Thanks to global connectivity, an abundance of skilled labour helps to drive rates down and keep them there.
Online gig workers – anywhere from Mumbai to Mexico City – routinely experience long working hours and invariably low rates of pay with little, if any, employment protection. Although the majority of them regard their work as a supplementary source of income, for some it is their only source.
While the British government's initiative is a good start, a much more global approach is needed to combat the problems faced by gig economy workers internationally. This would need to look at the various different types of work patterns, including seasonal, flexible and consultancy arrangements, as well as the location of those doing the work.
Policymakers and legislators now have the chance to help shape the future of this brave new world of work. The problem is that they are invariably too busy dealing with the consequences of previous waves of globalisation that they ignore the next one as it sweeps from country to country at lightning speed.
Establishing new measures globally is therefore a very challenging task. But it would help to provide a measure of protection for lower paid employees, wherever they are located. Ultimately, this would be beneficial to everyone concerned. It would also deliver an increasing level of stability for the many millions of global citizens who increasingly depend on the gig economy for their livelihood.