January 17, 2013
If art holds a mirror up to nature, shouldn't good workplace design hold a mirror up to the way we work? Well yes, of course. No points for answering no. By definition, the things with which we surround ourselves in the workplace should tell us something that is essentially true about the way we see ourselves and what we do. If it doesn't, it's not good design. So when we see award winning products, it should be possible to infer from them what is happening and what is changing in the workplace.
Claiming to be the world's most prestigious, recognized, and oldest Design Awards programme  GOOD DESIGN ™ is organised annually by The Chicago Athenaeum Museum of Architecture and Design together with the European Centre for Architecture, Art, Design and Urban Studies. It certainly has some pedigree. The programme was established in Chicago in 1950 by four genuine design and architecture legends: Eero Saarinen, Charles and Ray Eames and Edgar Kaufmann, Jr.
At the turn of each year it announces a vast list of winners for its annual award. Most are awarded to consumer products but what do the award winners tell us about the themes and concerns of contemporary workplace design. We've chosen five: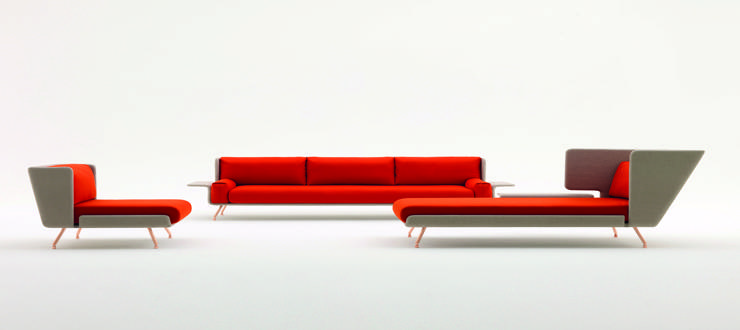 The Knoll Lounge Collection, designed by Pierre Beucler and Jean-Christophe Poggioli for KnollStudio, was launched at last year's giant North America workplace extravaganza NeoCon. By calling a range for Knoll, 'Lounge' the designers are leaving themselves open to comparison with Florence Knoll's genuinely iconic Lounge collection from 1954, but that would be unfair. This is a completely different animal.
The fully upholstered design is in keeping with the modern approach to soft seating in that it is applicable to a number of uses. It shouldn't be immediately apparent whether this a collection designed for an office, the home or a hotel and that is certainly the case here. The inability to pigeonhole products in this way reflects the wider inability to delineate between the office and other workplaces, including the home and public spaces.
The British have always had a problem coming to terms with the idea of sit-stand height adjustable workstations, even though there is clear evidence that the ability to change working position is a far better approach to ergonomics than the traditional solution based on encouraging people to adopt the right posture. The ability to stand while working may even help you to lose weight.
There is obviously a cultural resistance in the UK because most of Northern Europe sees nothing unusual in sit-stand workstations. There is also the problem that height adjustable workstations are more expensive than standard workstations, especially those with an electric actuator mechanism. But then again cost doesn't stop organisations specifying £700 chairs for staff rather than buying something cheaper, even a pretty decent one from Ikea for a fifth of the price.
There are a number of sit-stand workstations on the market, but Float from Humanscale offers a particularly elegant solution. It is aesthetically pretty neutral with the clever bit literally going on beneath the surface.
Although functionally architectural in many ways and very familiar as a partition system, Beyond from Allsteel displays several characteristics that mark it out as a contemporary solution. Firstly, a clever bit of component engineering is designed to make it modular and hence flexible, so the configuration of panels and doors can be changed easily enough – so FMs will like it.
Secondly, although it is designed to create a private area, it maintains the modish need for transparency which is deemed desirable not only for cultural reasons, but to maintain as much natural light through a building as possible.
The Up Chair from Italian manufacturer Tonon was designed by Martin Ballendat, who has been very busy recently as anybody who saw his name attached to any number of products at last year's Orgatec exhibition in Cologne will attest. It is available in the UK through Footprint Office Interiors.  There is something manifestly classic about Ballendat's design for the Up Chair, evocative as its lines are of well known products such as the Eames Eiffel chair.
Yet its design would not be possible without modern materials and manufacturing processes. The shell is made from an integral foam with a molecular structure that makes the seat flexible and light.
Even so, there is a whole evening's debate to be had about the nostalgic aesthetic echoes inherent in designs such as this. Every generation hankers for the past in some way, but could it be that we want to surround ourselves with things that remind us that there was a more solid, slower and simpler world before the information revolution?
Interpret from Teknion is essentially a bench system, and there are a lot of them about. However this range wears its innovations lightly and intelligently. It has a sliding top which is an old favourite and was once a way of hiding cables in ducts but is now there to allow people easy access to power and other services for their laptops, tablets and phones.
Although benches were originally a way of providing cheap and extremely space efficient configurations for teams of people in open plan offices, they are far more appropriate for flexible working.
Anytime, anyplace, anywhere is the approach taken by Teknion in its sales message. Or words to that effect. So the real beauty of this, as it is with other bench systems, is less in the architectural scale of the table itself, than in the modularity of the components within it and around it.  So it can be personalised with shelving, screens, storage and return worksurface as well as extended or reconfigured as needs change.