July 30, 2013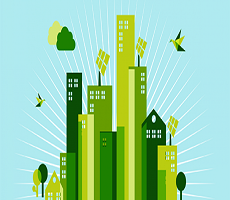 The Government has confirmed it's to strengthen energy efficiency standards for new homes and non-domestic buildings. The toughened up measures announced today in Parliament covering Part L of the Building Regulations will mean a six per cent cut in carbon emissions for new build homes, and a nine per cent cut for non-domestic buildings. According to the government, the small increase in construction costs will be "heavily outweighed" by subsequent energy savings. There have been criticisms however, over the length of time it's taken for the changes to be announced as a consultation on the proposed changes closed over a year ago.
Buildings account for around half the UK's carbon emissions – so cutting these is a significant part of the government's commitment to tackle climate change. It estimates that 6.4 million tonnes of carbon dioxide should be saved as a result of today's new measures.
Communities Minister Don Foster said: "Today's measures mean businesses and householders will not only benefit from reduced energy bills but they will also know they are doing their bit to tackle climate change."
The amended regulations will be laid before Parliament shortly, but the changes won't come into force until 6 April 2014 – which means a considerable gap since the consultation on changes to Part L closed in April 2012.
John Alker, Director of Policy and Communications at UK-GBC, said: "There can be no excuses for the length of time this has taken, but finally industry has the clarity on Part L that it craves.
He added: "The uplift is less ambitious than any of the options originally consulted upon – even less than Government's previously 'preferred options', particularly for non-domestic buildings. However, the fact there is any uplift at all is good news – it's a victory for all those who know that industry can continue to innovate, to improve standards and reduce carbon cost-effectively.
"The delay in implementation is disappointing but sadly inevitable. It needn't knock us off course from the zero carbon targets, which it is encouraging to see Government remains committed to."