January 15, 2013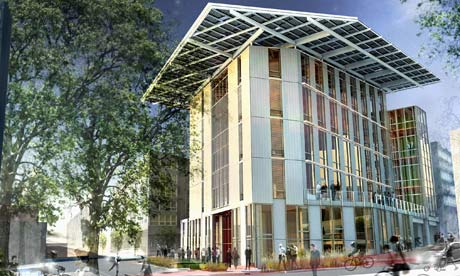 The Bullitt Center, proclaimed as the greenest, most energy efficient commercial building in the world, is opening in Seattle. The goal of the Bullitt Center is to change the way buildings are designed, built and operated to improve long-term environmental performance and promote broader implementation of energy efficiency, renewable energy and other green building technologies. Tenant are now moving into the six-storey, 50,000 square-foot building located at the intersection of Capitol Hill and the Central District in Seattle, Washington.
The building is seeking to meet the ambitious goals of the Living Building Challenge, the world's most strenuous benchmark for sustainability. For example, a solar array will generate as much electricity as the building uses and rain will supply as much water, with all wastewater treated onsite.
By creating a place where every worker has access to fresh air and daylight, the Bullitt Center aims to provide a healthy, human environment that is more pleasant and more productive than most commercial buildings. The building features operable floor-to-ceiling windows that provide expansive views of the downtown skyline and surrounding neighborhood, and maximize natural daylight and fresh air to each floor.
Because the building aims to lower barriers for future projects and to encourage replication of energy-efficient, performance-based buildings, the Bullitt Center team is collecting and sharing the lessons from this project to help building owners, architects, developers, banks, engineers and others in the green building movement find ways to enhance long-term building performance.