November 28, 2022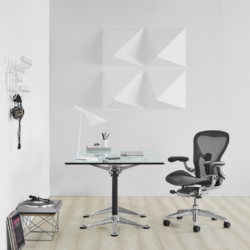 Office furniture giant Herman Miller has launched its iconic Aeron Chair in Europe with ocean-bound plastic (OBP) in all available colours. This change builds upon the momentum created by the successful introduction of ocean-bound plastic in Aeron exclusively for Onyx, the ultra-black shade, in September 2021. the Herman Miller Aeron with ocean-bound plastic is now available in a harmonious colour palette which centres on elements pulled from the earth. Onyx is a dramatic ultra-black shade, Graphite is a distinctive dark grey, Carbon is a balanced neutral that works equally well in warm and cool environments, and Mineral is the lightest shade illuminating Aeron's finer points, ideal for open floor plans and spaces.
Depending on configuration, the ocean-bound plastic in Aeron can be found in the frame and tilt covers of the chair and contains between 226.8 g and 1.13 kg of the material per chair, equivalent to approximately 23 to 114 plastic water bottles. The Onyx colour contains the highest amount of ocean-bound plastic at almost 1.13 kg per chair. All chairs within the Aeron Portfolio are up to 90 percent recyclable and composed of over 50 percent recycled content.
Aeron is joining a roster of Herman Miller products now being made with ocean-bound plastic including OE1 and Revenio textiles.
As part of the MillerKnoll collective, today's announcement highlights Herman Miller's ongoing commitment to sustainability, and long-term goal to increase recycled content to at least 50 percent, including the use of ocean-bound plastic, across all material the Company uses by 2030.
The Aeron chair made with ocean-bound plastic is currently available to purchase for contract customers in Europe, either from MillerKnoll or Herman Miller dealers. Aeron will also be available to purchase through Herman Miller's retail locations in Europe in the new few months.
The Herman Miller Aeron is now approaching its 30th anniversary and is comfortably the best selling task chair of all time, despite very nearly being shelved in its development.