March 15, 2021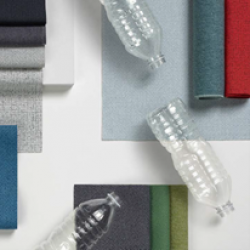 Design manufacturer Herman Miller, Inc. (NASDAQ:MLHR) announced the introduction of a new sustainable textile collection including fabric made from all recycled and ocean-bound plastic materials and an industry-leading 100 percent post-consumer biodegradable polyester.
The collection, known as Revenio, focuses on using the latest sustainable textile innovations to alleviate global waste, without sacrificing aesthetics, performance, or longevity.
For every yard in the Revenio collection, 7-15 bottles of plastic are diverted from the ocean. Annually, the Revenio Collection will divert an estimated equivalent of 4.6 million or approximately 37,000 pounds of discarded plastic bottles – 1.37 million of those bottles will be collected in vulnerable coastline cities, where they will be intercepted before reaching the ocean.
"This is our most sustainable textile collection yet," said Elaine Gerbers, Director of Materials at Herman Miller. "This new collection amplifies our commitment to creating a circular economy through the use of environmentally mindful materials. By utilizing 100 percent recycled content and introducing ocean-bound plastic, we are diverting plastic from the landfill and our waterways and giving them new life in these beautiful new textiles. Additionally, our new biodegradable textile reduces the environmental impact at the end of a product's life."
The 100 percent post-consumer biodegradable polyester can decompose in landfills and wastewater conditions at a rate similar to that of natural fibres (tested under ASTM D5511). This is achieved through the addition of a biocatalyst in the yarn extrusion process that enables anaerobic digestion in landfill and wastewater treatment conditions. In addition, these polyester fabrics can also be recycled and reused as raw materials for future generations of polyester fabrics.
Herman Miller joined NextWave Plastics as a founding member in 2018 and has been working to incorporate ocean-bound plastic in its solutions. NextWave is an open-source initiative convened by Lonely Whale, connecting and uniting traditionally competing multinational companies to develop the first global networks of ocean-bound plastics in supply chains.
The Revenio Collection is currently made up of four textiles and will be available on Herman Miller seating and workspace solutions. The textiles will also be offered on products from Herman Miller Group brands, Geiger and naughtone. They will be available to order starting March 1, 2021 in North America. Additional textiles with ocean-bound plastic and details around global distribution will be announced at a later date.