September 8, 2023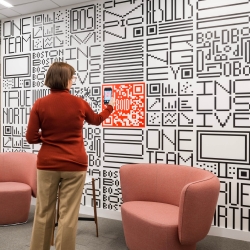 brandx, a global team shaping the standard for innovative wayfinding strategies, signage systems, and brand experiences, is pleased to announce its official launch as a specialty partner of international architecture and design firm HLW. In a world where individuals are exposed to thousands of visual messages every day, brandx cuts through the clutter by creating intuitive connections that redefine how users safely and efficiently interact with brands, as well as their physical surroundings.
"The way we use language to navigate our world is always changing, and the standard for today's interiors requires more than just wayfinding," says Managing Partner Susan Boyle. "The clever and dynamic brandx team pushes the boundaries of signage as we know it, bringing a universal, approachable, and functionally driven method to the way we move within and interact with space. Their work aids organizations in engaging stakeholders and meeting goals with the same degree of professionalism and passion that our clients have come to expect from HLW for more than 135 years."
Led by Global Director Chanel Dehond, HLW's "brandxperts" understand that what you say with signage matters. The team's varied professional backgrounds bring a unique depth of insight to the design of collateral that communicates logistical information clearly while navigating cultural conversations around identity and ability with respect. This results in inclusive, flexible, and long-lasting signage systems and wayfinding strategies that are distinct to their locations. Put simply, brandx translates the defining characteristics of an organization into tangible, 3D spatial experiences.
"We engage with our clients directly throughout the process," says Dehond. "A great example would be one of our most recent projects, Subway's Headquarters in Miami. We created a graphics package that does fun and colorful in a high-end way, elevating the workplace and immersing employees and visitors into Subway's iconic brand. We subdivided the headquarters into six "neighborhoods" or "team zones" named after different food adjectives: Fresh, Tangy, Melty, Savory, Seasoned, and Spicy. Each area features its own distinct visual identity that fits the flavor profile, so you may find yourself using the Bacon meeting room in the Savory neighborhood."
brandx often works in conjunction with the architects and designers at HLW—alongside the firm's four other specialty business partners—to supplement innovative and sustainable projects with a branded environment to match. Initiating close partnerships with key stakeholders from the inception of a project, the brandx team is able to closely execute the management of the entire design process, from visioning and design to the on-site coordination of fabrication and installation. Partnering on projects with clients such as Schrödinger Inc., Subway®, Aspen Insurance, Morgan Stanley, and Fordham University, the team works across verticals to make branded experiences immersive and accessible.