September 14, 2022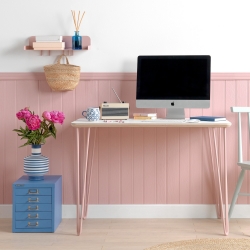 Working from home (WFH) is no mean feat. For maximum productivity, the number one rule is to create an environment that works for you day in, day out. While a well-designed desk and chair will get you off to a good start, practical storage should also be a top priority; whether they be functional multi-drawer cabinets to keep clutter at bay, or simple desktop tidies to make daily tasks a little easier.
The latest survey conducted by Pinterest found a 110 percent increase in searches for "home office setup" on its platform – followed by "book nooks" (+85 percent), "study desk décor" (+65 percent) and "home office space" (+50 percent).
As many look for new inspiration, now is the time to reassess your workspace to give it the boost it deserves – and colour plays a key part in this. "Colour has the power to influence," says Jeanine Goddard, Creative Director of Bisley. "Although choosing the right colour is a very personal thing, there are some general rules to consider – the most important being how the colour chosen makes people feel and work within that space."
From interior decoration to furniture and soft furnishings, here are Jeanine's top tips to achieve the perfect WFH look with colour – while staying productive and, more importantly, getting the work done.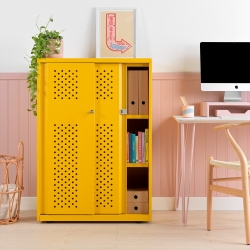 Follow your instinct
Trendy colours come and go, so make sure you choose the colour that you feel most comfortable with. The more relaxed you are, the more likely you're able to work efficiently.
Feels like home
You're WFH after all – so why not make it a homely yet work-efficient space? Muted tones are popular as they easily go with anything and offer a sense of tranquillity; think soft neutrals, chalky green and dusky pink. For those who want to be more daring, try bright and uplifting colours such as yellows and oranges. And if you want to take it up a notch, go bold and experiment with contrasting prints and textures.
Something for everyone
Colour affects us all in different ways – we all have different memories and attachments to certain colours, so our choices will naturally vary. That said, a few notable colours should be used for some of the key work modes. While blues and greens are commonly used to promote calmness and aid concentration, yellows and oranges are brilliant for encouraging creativity and new ideas.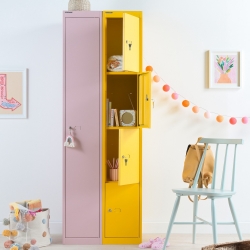 Don't go OTT
There's nothing wrong with bright colours but the use of too many in a room can be overwhelming, resulting in the opposite of what's intended. To avoid this, I'd recommend choosing up to two dominant colours for the accent, and then creating a scheme around them. Introducing pops of colour can be done in different ways; from simply adding small desktop tidies to placing a bright, colourful desk or storage cabinet in the room.
Touchy feely
Sometimes it can feel cold and uninspiring with a wooden desk, or one with a glass top. By introducing textures and patterns, such as an upholstered chair – or even a throw, especially in winter – you can instantly create a more cosy and warm working environment.
Don't forget – Bisley offers an extensive collection of stylish yet savvy solutions for modern living. All designed and made by Bisley in its Newport factory, Belong comprises multiple ranges of furniture and coordinating accessories designed not just for the home office, but also for other parts of the home.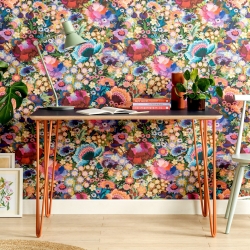 New to the Belong family is the Pebble desk by Bisley. Featuring radius corners for comfort and style, Pebble has beautifully contoured edges of plywood that insinuate the linear elements of the coast. Its "PerfectSense" desktop surface is velvety smooth to touch, while also being exceptionally durable, with anti-abrasion and scratch-resistant qualities. Pebble is practical and hardwearing, yet soft and comforting – all without compromising its contemporary design.
What's more, its scalloped plywood edge detail at the back is perfect for simple cable management, allowing a neat and tidy workspace. Available in a variety of colours, its hairpin legs are also modern and elegant.
For more information, visit bisley.com/shop.