January 18, 2022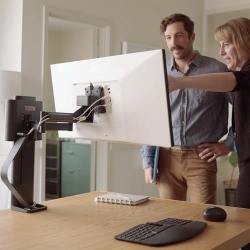 Remote working swiftly evolved from a stopgap lockdown solution into a globally successful workstyle – and it's set to stay. According to research quoted by CityAM, "84 per cent of UK businesses plan on having a hybrid, flexible or remote workforce following the pandemic". Some companies, like Deloitte, have placed all bets on remote in closing their offices and basing employees from home, enjoying a vast reduction in operational costs. This flexibility has offered immediate benefits for remote workers, ranging from lifestyle and financial to positive influences on wellbeing. Workers in particular social groups have experienced life-changing situations, securing work in previously inaccessible geographic locations.
But as excitement over this flexible way of working subsides, reality has kicked in – in the form of medical issues, mental health issues and workers' increasing demands for more support from employers. There are significant well being implications for workers in terms of how they are being provided for by employers. In-office employer responsibilities that exist to provide for workers don't extend to working from home and elsewhere. Lack of best practice guidelines to provide ideal remote workspaces puts workers' health needs and long-term sustainability of this working model at risk.
Gen-Z influence
Generation-Z aren't just any kind of workers. What's special about this youngest working cohort is that they are experiencing the design of a new workstyle, during a labour skills shortage, and comprise a growing group of more socially aware workers. Now the balance of power has swung in the favour of workers, they are becoming more vocal about what they want. A Future of Work survey by Ergotron provides insight for employers into workers' needs to carry out their roles, indicating "73% of UK workers would choose their next employer based on flexible technology provision and physical, health and wellbeing support". It has never been more important to provide the right equipment and technology for workspace environments.
Solving the skills gap
Through sourcing skills from a global talent pool, rather than being limited to workers within a short commute, remote work can help employers address chronic skill shortages. A Korn Ferry Institute study, for instance, suggests that the financial and business services industries in the U.S. and UK could suffer a US$1.3 trillion revenue loss due to the talent shortage. It's clear that the right strategies for remote working will enable employers to secure and retain the best global talent.
Remote working health and wellbeing risks
Although the remote workstyle appears mutually beneficial for employers and employees at a surface level, the cracks in home-based working provision for employees are starting to show. Ergotron's survey shows that 15% of hybrid-office and home-based UK workers have not been provided any equipment at all by employers – including a laptop, ergonomic chair, big monitor, or a subsidy for equipment.
Employees are using unstandardised equipment and workstations are poorly designed
Most concerning is that employees are often using unstandardised or unspecified equipment and workstations are poorly designed and unsuitable. While 75% of Ergotron's survey respondents said that an ergonomic chair is important, only 19% claimed employers had provided one. An agile working environment, where workers can switch between sitting and standing to support their physical needs while at work, was also identified as a clear need by 52% of workers surveyed by Ergotron, with 71% of workers aged 18-24 claiming this to be important.
Research suggests that inappropriate equipment makes remote workers especially vulnerable to mental and musculoskeletal stress, with health conditions on the rise. A study published by the International Journal of Environmental Research and Public Health in August 2020 cited an increased risk for musculoskeletal and mental health problems. Potential consequences include higher healthcare and disability expenses, lost time and productivity, and a negative impact on the employee experience. Ergotron's research also shows that only around one third (36%) of UK home workers have a line manager who regularly checks in with them to enquire about health and wellbeing, which should be a key focus for employers.
Rising claims and costs for employers
Rising insurance claims are also evidence of remote working consequences, with healthcare claims data from Q4 2019 compared with Q4 2020 showing that there has been an 18% in increase in carpal tunnel syndrome and a 25% increase in low-back pain. According to Lyra Health's 2021 State of Mental Health at Work Report, there has been a 24% decline in mental health of remote workers over the past year and that 40% of workers have one or more acute mental health condition.
The costs of looking after employees is continually rising. Spend estimates put 2021 employer-paid musculoskeletal (MSK) treatments at 40% greater than in 2019, with an average of $5,687 spent per employee with an MSK condition. Increased sedentary behaviour and poor posture while using equipment that's not adjustable or ergonomic seemed to promote the onset of musculoskeletal disorders, particularly low-back pain and neck pain. Lower physical activity levels at work are linked to higher levels of perceived stress and, according to Lyra Health's report, more than half of remote workers report being stressed in the last year.
The importance of flexible workspaces to support employee comfort
Providing the right tools and tech for workers to carry out their roles seems obvious, but is clearly being overlooked. Sedentary work and poor posture negatively impact comfort and curb productivity at work. An investment in adjustable office furniture, such as standing desks, adjustable monitor arms and keyboard trays, can improve posture when sitting and support an active and ergonomic workstyle. Only standing desks can provide the flexibility to address both physical activity and ergonomics without interrupting productivity.
The British Journal of Sports Medicine reports that 10 minutes of movement is all it takes to increase mental focus. Provision of high-quality solutions which improve comfort, productivity and wellbeing daily, will benefit the entire organisation. According to The International Journal of Environmental research, remote employees without pain report significantly higher job satisfaction, and when employees believe their workplace supports their health and wellbeing, they are more than three times as likely to be highly engaged.
Strategies for remote working
Addressing the needs of remote-working employees must happen in policy and in practice for organisations to show they are listening to their people and putting them first. With a growing generation of socially aware workers, employers will need to make a commitment at hiring stages and beyond to secure the talent they need and build loyalty and trust. Workers are looking for authenticity and care from their employers and to show a wider sense of purpose and responsibility for their ecosystem. In the current skills crisis, employers will all want to be candidates' 'chosen' businesses.
A focus on office ergonomics can have a powerful impact on employee health and well-being. Organisations should undertake an ergonomic initiative covering the following foundations to ensure employees have adequate equipment and information on safe working techniques and the health benefits of an active workstyle:
 Engage with employees – This first 'exploratory' phase should include an employee workspace survey, which assesses the needs of workers in their specific roles. Sample questions should ask if workers work primarily on a laptop, whether they use a separate/external monitor, whether their monitor is height-adjustable and how many minutes they spend sitting during the workday. The results can be used as a roadmap to determine which provisions will have the greatest impact and to train on best practices for adopting an active workstyle.
Standardise equipment – Working with an ergonomic specialist or product representative to select equipment will help to address the needs of workers. This commonly includes a chair, standing desk, external monitor with monitor arm or mount, external keyboard and external mouse. It's important to choose products with multiple points of adjustability and vet each product for safety, ergonomics and durability.
Training and culture change – Employees need training to work in a way that truly supports comfort and helps reduce the risk of computer-related injuries. Sitting, especially in bad postures, is a habit that takes time to reprogramme. Best practices include supportive policies, leadership involvement and regular reminders. Regularly reminding or adopting software to prompt employees to stand and move frequently can help correct posture mistakes.
From policy to practice
Formalising this new-look workspace environment is necessary to ensure provisions are proactively offered fairly to all workers, not only on-request. Only 17% of Ergotron's UK research respondents claim they are offered a subsidy by employers to buy their own equipment. Organisations need to develop a robust strategy, which re-designs the way their employees are able to work, and accounts for actual workers' needs to carry out their specific roles. Re-designing a safe, productive and collaborative working environment will pay dividends for the company.
The scope of this should go beyond available technologies, such as laptops, large screens, swivel mounts, adjustable desks and ergonomic chairs, to other dedicated resources which support workers' physical and mental wellbeing, such as employee wellbeing management plans. The work from home guidance set out by Furniture Industry Research Association (FIRA) and The Health & Safety Executive (HSE) are a useful place to start.
As we head into 2022, we might see employers' liabilities extended to deliver for the wellbeing and safety of employees based remotely. Employers that make remote working strategy a priority will add value to their workers, reputation, and the bottom line.