March 16, 2022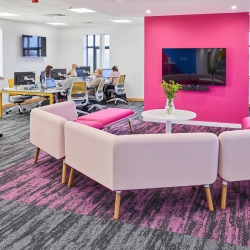 Plastribution, a UK based distributor of plastics and raw materials, recently moved into new offices and called upon Blueprint Interiors to design a practical space that reflected its brand through colours. Across 1,000m sq.m. of space, a range of flooring solutions from IVC Commercial have been used. In the main desking areas, Art Style and Art Fields carpet planks have been installed in a range of colours that reflect Plastribution's colourful and vibrant brand identity. Bright tones of yellow, cyan and magenta have been contrasted with circles of charcoal grey for a look that is energetic yet professional.
The circle theme is continued with Optimise 70 acoustic sheet vinyl and Moduleo 55 Ceppo LVT installed in thoroughfares, kitchen, breakout and collaboration areas for an easy to maintain, durable floor finish. Mysto's authentic terrazzo effect is interspersed by circles of bright and bold colours of Optimise 70 Ombra, again reinforcing Plastribution's brand.
Rebecca Beadle, project designer & wellbeing specialist, Blueprint Interiors, comments: "Being able to use complimentary products with closely matched colours was important in creating the right look. We wanted to deliver a floor that was easy to look after – avoiding blocks of bright plain colours – and IVC Commercial's solutions allowed us to achieve this right across the office space, utilising the comfort of carpet tiles and practicality of vinyl where appropriate."
Mysto vinyl floors have been installed with IVC Commercial's Flex Pro self-adhesive underlay. Creating a seamless and level transition from carpet tiles to LVT flooring, Flex Pro also helps to improve sound insulation, ensuring that Plastribution enjoys a quiet floor throughout its offices to encourage productivity and support the wellbeing of colleagues.
IVC Commercial Carpet Tiles, Luxury Vinyl Tiles and Heterogeneous Vinyl floors are efficiently made in Europe. Using a 100% REACH compliant supply chain, harnessing renewable energy and with 50% recycled content in its Luxury Vinyl Tiles, IVC Commercial provides high-performance flooring solutions made with the future in mind.