October 25, 2021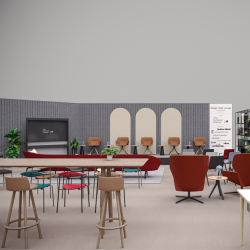 In just two weeks, the much-anticipated Workspace Design Show will open its doors for the first time, welcoming the commercial interiors community to discover and discuss tomorrow's places of work at London's Business Design Centre from 4-5 November 2021.
This is the first UK exhibition in this sector since the lockdown of March 2020 and it has the potential to significantly change the next chapter of the world of work. The enthusiasm from speakers and visitors is affirmation that this is much needed Live debate for the industry to discuss the numerous issues that surround the complex topic of work and where it takes place.
A survey conducted by Envoy and Wakefield Research claims 94 percent of people asked wanted to work in the office at least once a week, with nearly half saying the ideal number of days in the office was a full five days per week. YouGov also asked those working from home in the lockdowns what they missed most about the office, with two thirds saying seeing work colleagues and friends again was the thing they missed most and nearly half responding that they missed face to face meetings. With this in mind, Workspace Design Show will provide the perfect arena for professional conversations around the evolving workplace of today and tomorrow.
On the 4th November, the show will kick off at 10:00am with numerous debates and workshops.
At 10:55-11:45 the first panel discussion focuses on 'Commercial Interior Designs to Inspire Creativity & Innovation' chaired by Mark Eltringham, Publisher at Workplace Insight & IN Magazine. Speaking on the panel for this talk will be Kate Vine, Total Workplace Market Lead, UK, at Cushman & Wakefield, Collin Burry, Design Principal at Gensler and Jack Pringle, Managing Director at Studio Pringle.
The next session from 11.50 – 12.35 will provide insights on 'Designing Environments to Improve Employee Wellbeing' chaired by Peter Brogan, Head of Research & Insight at IWFM. Expert panellists for this talk are Alan Bainbridge, Head of Workplace & Corporate Real Estate at the BBC, Sheela Shukla, Director of Design at BDP and Oliver Heath, Biophilic Design Ambassador for Interface, Oliver Heath Designs Ltd.
'Developing & Implementing the Inclusive Design Guide & Inclusive Design Standards' is running from 12.45 – 1.30 and is chaired by Terry Gunnery, Director of Design at AECOM. Panellists include Claire Ness, Inclusive Design Lead at HMRC, Stuart Horne, Deputy Director of Service, Design and User Experience at HMRC, and Jonathan Eccles, Head of Workplace Design at Government Property Agency.
Heading into the afternoon at 1.40 – 2.15 you can listen to a talk on 'Designing the Experience of the Future Workspace' chaired by Daniel Gava, Brand Strategy Advisor for the Architecture & Design Industry. Speakers are Natasha Bonugli, Founder and Creative Director at The Bon Collective, and Erik Behrens, Creative Director at AECOM.
Following this at 2.25 – 3.10 is 'Incorporating Flexibility into Workspace Design' chaired by Andrew Linwood, Head of Hospitality at Areen Design. On the panel this time are Robert McLean, Head of Real Estate and Design at PwC, Andy Bradshaw, Director of Property and Workplace at DLA Piper and Emily Harding, Workplace Design and Culture Lead at Aviva.
Later on, at 3.20 – 4.05 we have a talk on 'Co-creation: A Path to Business Results' chaired by Mick Jordan, Editor at Mix Interiors. Panellists for this talk include Zoe Humphries, Regional Director at AECOM People & Place Advisory, Ed Hoban, Associate Director and Head of Workplace at The Furniture Practice and Maria Papadopoulou, Associate and Interior Designer at Perkins & Will.
At 4.10 – 4.55 you can listen to a talk on 'Designing Products for the Future Workspace' with Yorgo Lykouria, Creative Director and Founder at Rainlight and David O'Coimin, Director at Nookpod.
Finishing off Day 1 activities on a strong note at 5.00 – 5.45 is an insightful talk on 'The Impact of Office Design on Brand Identity' chaired by Mark Eltringham, Publisher at Workplace Insight & IN Magazine. Speakers on this panel include Maz Mahmoudi, Director at 3equals1design, Ben Grave, Director at DThree Studio and Anna Chimes, Executive Creative Director at Landor & Fitch.
Commencing the Day 2 activities on the 5th November at 09.45 – 10.20 is a talk on 'Future of Work: Hybrid – A Passing Phase or Here to Stay?' This talk will be hosted by Neil Usher, Chief Workplace and Change Strategist at GoSpace AI and Bertie Van Wyk, Workplace Specialist at Herman Miller.
At 10.25 – 11.10 listen to a talk on 'Overcoming Obstacles to Sustainable Commercial Architecture' chaired by Isabelle Priest, Acting Managing Editor at RIBA Journal. Panellists include Luke Tozer, Founder at Pitman Tozer Architects, Matthew Holloway, Principal at Grimshaw Architects and Richard Holland, Director at Holland Harvey Architects.
Then at 11.15 – 12.00 head down to hear a discussion on one of the hottest topics being talked about right now, sustainability. 'Sustainability – Can we have it all?' will be chaired by Neil Usher, Chief Workplace and Change Strategist at GoSpace AI. Speakers include Deepak Parmar, Design Director at MCM Architecture, Stephen Guy, Chief Integration Officer and Chief of Staff at McCann Group and May Fawzy, Founder at MF Design Studio.
Kicking off the lunchtime talks at 12.10-12.55 is 'Data Driven Designs to Improve the Employee Experience' chaired by Tim Oldman, CEO at Leesman, with panellists including Gill Parker, CEO at BDG Architecture + Design, Caroline Pontifex, Director of Workplace Experience at KKS Savills and Cristiano Testi, Principal at tp bennett.
At 1.00 – 1.30 you can listen to a talk on 'Colours & Materials in the Workplace' chaired by Karen Haller, Founder at Karen Haller Behavioural Design Consultancy. Speakers include Raluca Timbala, Founder at RIT Interior Design and Vidhi Sharma, Creative Director at Modus Workplace.
Heading into the afternoon at 1.40 – 2.25 we have 'Designing Better Co-Working Spaces' chaired by Hamish Kilburn, Editor at Hotel Designs. On the panel for this talk is Dom Dugan, Creative Director at Oktra, Nasim Köerting, Head of Design at The Office Group and William Stokes, Co-Founder and CEO of Co-Space.
Following this at 2.30 – 3.20 is 'The Impact of Sustainability Trends on Lighting Design' chaired by Sophie Parry, Technical Application Consultant at Zumtobel. On the panel are an exciting group of lighting specialists including Susan Lake, Design Director at SLLD, Lauren Lever, Founder of Minoux Lighting Design, LLD and Paul Nulty, Founder of Nulty Lighting.
Rounding off the final day at the show at 3.30 – 4.10 is a talk on 'Products Shaping the Future Workspace' chaired by Daniel Gava, Brand Strategy Advisor for the Architecture & Design Industry. Panellists include Stephen Philips, Associate and Product Designer at Arup and Richard Benson, Creative Managing Director at Fjord, part of Accenture Interactive.
We also have live workshops running at the show – Colour, material and finish forecast: Autumn Winter 2022/23 Workshop, Stand A8, 4.30 – 5.30pm on 4th November, & 3.30 – 4.30pm on 5th November by Hannah Malein, Creative Director at Colour Hive and Head of Trends for MIX Magazine.
At lunchtime on 5th November, we will also have our partners Designers Mind and their founder, Kaye Preston, conducting a great session on mental health and wellbeing.
There's lots to be seen and heard; the inaugural Workspace Design Show is not one to be missed for those frequenting the commercial interiors world and related industries.
Register your attendance at www.workspaceshow.co.uk
Workspace Design Show, 4-5 November 2021, held at the Business Design Centre, London.
For further information visit workspaceshow.co.uk or email charlie@workspaceshow.co.uk