October 23, 2020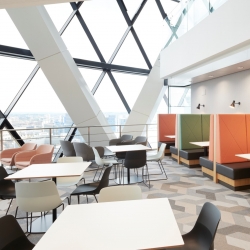 Insurers RFIB have transformed their workplace strategy to embrace both traditional and new ways of working at 's the firm's new global headquarters at 30 St Mary Axe in London. Located on the twelfth floor of this landmark building, the new offices feature panoramic views and generous natural light. Offering an enhanced user and visitor experience, they are bright, open, flexible and high quality.
The interior design reflects the company's brand values and supports efforts to attract and retain staff and global corporate clients alike. From the impressive reception area, to meeting and quiet rooms, collaboration & breakout spaces and support facilities, every element of the space has been created to enhance staff welfare and customer service.
As an independent international insurance and reinsurance specialist, many of RFIB's 200 staff would travel all over the world to risky, remote and often poorly serviced locations. Interior architecture & design practice work.place.create. ensured that these new offices would provide an oasis to come back to, a home-away-from-home for these employees. For the main open-plan office areas, KI's Work 2.1 Sit-Stand desks, 800 Series pedestals and 800 Series storage cabinets and confidential waste units were selected.
Cardine Hollowell, Creative Director at work.place.create comments: "Moving into this slightly smaller space of 18,500sqft gave us a challenge as well as an opportunity – it really made us look at the use of space in the old building and identify areas for improvement. In understanding the company's future growth objectives and evolving work practices, it became apparent that creating a sense of place for staff was important. That is why the new office features assigned desking, rather than hot desking. Each position features desktop power outlets and is either sit-stand, or sit-stand-ready for future modification, enhanced with a generously proportioned pedestal for personal storage."
Another notable change from the former office is the variety of new work settings, moving away from larger often underused formal meeting rooms, to more informal dropdown spaces for smaller get-togethers with colleagues, suppliers and contractors. Better circulation through the space supports agile working, allowing people to easily move between these new locations and work settings. The new colour palate helps to soften the overall space, featuring a wide range of yellow, blue, teal, grey and coral set to a backdrop of white and light wood tones.