June 16, 2023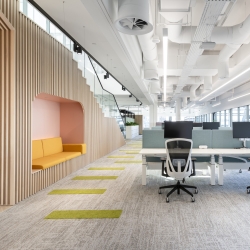 Following a period of rapid growth, consumer engagement platform Braze has recently moved into the City of London's Broadgate Exchange Square. Outgrowing their presence at a nearby shared co-working facility, the company wanted their new dedicated facilities to be an employee attraction tool, whilst also being as 'future-ready' as possible. Making the workspace desirable and enjoyable was an important consideration for the company, who exercise a fully agile, hybrid working policy. And sit-stand desks from KI have been specified to optimise the comfort of workers. policy.
The design intent and space plan of the new office was undertaken by AIS Interiors, with the furniture dealer by Bailey (now Insidesource) procuring and installing the furniture. To support worker wellbeing and meet employee expectations, all workstations across the floor are sit-stand. These 258 workstations greatly outnumber current employee numbers, but are in place in anticipation of further, rapid expansion. Banks of desks are punctuated with large collaboration tables to provide alternative work settings adjacent to workstations. Should the company expand yet further beyond the current provisions, these collaboration tables have been configured in dimensions exactly equivalent to 6-person benches, allowing rapid switching out whilst causing minimal disruption.
The 258 KI Work2.1 Sit-Stand desk workstations have been configured with 'E Series' screens finished with Camira Sumi Yabu SUR20, Camira Sumi Handa SUR10 & Camira Sumi Daisen SUR09, and a white beading. These fabrics were especially selected to suit other furniture in each respective neighbourhood but are not usually used for screens as they have a weave. When stretched over screens, this weave can often look warped or distorted, however the KI factory managed to create an elegant and seamless finish for this bespoke request.
Generally arranged as groups of 6, many of these workstations feature a fixed-height 'D' end table that creates collaboration space and prevents people needing to squeeze in-between desks for impromptu gatherings. These tables blend into the workstation configuration but are in fact freestanding so can be moved to create finger safety gaps next to the desks, or even removed if necessary. The KI Work2.1 Sit-Stand desks were chosen for their advanced cable management system. The clever design of the lower cable tray of this system makes cable distribution easier and totally hidden between desks, whilst reducing the size and number of floor grommets required.
The large floorplate uses furniture, screens, and planting to delineate space, whilst shelving has been avoided to reduce the accumulation of visible clutter over time. Arranged into neighbourhoods, the office features mostly neutral colours. The colours used on desk screens blend into their adjacent breakout areas, and bolder colours have been used in spaces furnished with high tables and soft seating that provide informal meeting spaces within the open plan. There are numerous standalone pods and booths, as well as traditional meeting rooms to provide a rich variety of work space types to suit different people and functions.
JJ Bailey, Business Development Director at Insidesource, commented, "We've worked with KI on many projects and their service is always of an excellent standard and their products are of the highest quality. The Work2.1 Sit-Stand desk is no exception."