April 5, 2013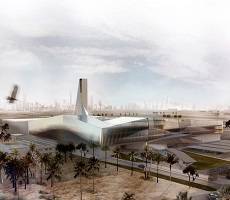 The competition to design and build the future General Department of the Information System (GDIS), in Kuwait has been won by AGi architects, in collaboration with Bonyan Design. The aesthetics of the building, which will encompass a total gross area of 135,482 sqm is shaped by the superposition of two contrasting layers: a massive stone plinth at the lower level, and lighter glass structures on the upper floors. At ground floor level there will be a plaza conceived as an inner urban space that will be the core of flows and circulations and will provide access to all four departments included in the building
According to the architects the building design aims for the clear transmission of a conceptual duality it derives from: technology, innovation and transparency on the one hand versus strength, stability and security, inherent to the Ministry of Interior Affairs, the main occupant of the building.
This concept is driven in the building by the two contrasting layers that are superimposed onto one another. From afar the building is perceived as a light volume elevated from the ground floor, while a closer approach will show the massiveness of the stone plinth, a lower part of the building that is opened to the public through the main gates and lifts from ground to hold the upper levels lighter glass structures that house the offices of the various departments.
The office work spaces comprise linear volumetric buildings that cross the site by tilting and zigzagging to create numerous courtyards at multiple levels. The spatial organization of the offices follows the combination office scheme, which says the designers, is proven to be the most efficient work space model.
Work areas will include a consolidation of workstations in a single room with direct links to a common central core that is suitable for a variety of uses, i.e. the combination zone, while individual workstations shall comprise single offices with divisions set along the façade, each including a small conference or meeting area. The typical workstations offer:
Direct visual contact with the outside
Individual control of the work environment conditions
Ergonomic design, adaptation to the users' requirements
Given the climate, the transparent glass envelope of the offices is wrapped using a second skin that protects the building from the harmful radiation of the direct sun. This secondary skin creates a new façade that is used to ventilate the building. During the day the façade works as a chimney and at night it is used to cool the building. The skin is made up of metal louvers with a shiny mirror finish placed perpendicular to the sun radiation deflecting any heat from the building, while simultaneously allowing views to the outside.
by Sara Bean