November 30, 2022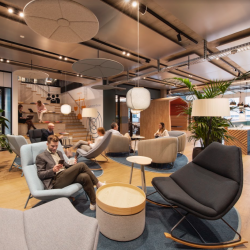 Without wishing to sound overly dramatic, welcome to the greatest workplace battle of the decade. (And one we'll continue to cover on Insight, IN Magazine and Works, issue three of which you can find here – and very nice it is too.) When Elon Musk recently called on all Twitter employees to ready themselves for 'long hours at high intensity' or to leave, he basically – in his own inimitable style – dispensed with the niceties but said what some others really would like to say to their own people.
We've chatted with end users over the past couple of months who, without adopting Elon's no-nonsense (albeit pretty insensitive) approach, have wondered aloud just how can they get their employees back into the workplace – and not just on Tuesday, Wednesday and Thursday, but all week. We can tell you, for example, that one major social media company is currently devoting a great deal of attention towards returning to a five-day week in the workplace (although taking a much more sensitive, measured approach to this).
"We've invested a huge amount in our spaces for our people, therefore we don't want to see them empty for days at a time," we were told. "But we have to be careful about how we approach this."
Elsewhere, a tech end user revealed that they are carefully watching and waiting for the possibility of talent becoming available (Twitter, maybe?), while being careful not to alienate their own, loyal and talented employees.
So here it is! Winter is not just coming – it's here. The battle is on for who really has the power – the employee or the employer. And we'll all have front row seats.
Also here is issue 3 of Works magazine. This issue focuses on the aftermath of Orgatec, back after too long away, case studies from Switzerland and Bratislava, an interview with Richard Cutfield, drinks with Esha and Charle Bark-Jones as well as features on workplace tech, new products and all the usual gripes and celebrations you'd expect. All back issues can be found here.
Credit where it's due: When we found ourselves in a bit of a bind recently, we needed someone to step up to the plate and help us out. A massive thank you to James from Resource at Work who, responding to our Tweet, volunteered to pick up boxes of magazines (at 7am from Tamworth services) and delivered them to Clerkenwell at lunchtime the same day – free of charge and asking nothing in return! We salute you James and team.